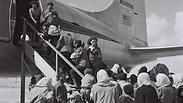 Immigration of the Jews of Yemen in 1949. Thousands of years of Jewish presence came to an end
Photo: David Eldan, GPO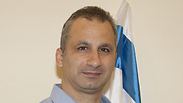 Most of you will be surprised by this, but we Jews have a Nakba too, and it's a major Nakba. It's a Nakba which is marked on November 30, when we commemorate the expulsion and uprooting of about one million Jews during the 20th century from their homeland in the Arab and Muslim world. Thousands of years of Jewish presence in those countries, even before the era of Islam, had come to an end.

Unfortunately, our Nakba is private, as it has no international or even national support, it has no Israeli and foreign organizations which recognize it and work to raise Israeli and international awareness of its existence. It has no organizations to support it, write about it, interview us, photograph us, write scientific articles about us, the refugees who came from Arab countries.

Lost Property

More than 700,000 Jews fled from Arab countries by the mid 1960s, most of them immigrating to Israel. The property they left behind is estimated at billions of dollars, but the disintegration process most of these countries are going through doesn't leave Mizrahi Jews much hope for compensation.

We have no funding and budgets like the Europeans and Americans and other Arab states funnel to the refugees of the Palestinian Nakba, we have no cultural institutions to give us the stage at the Tel Aviv Cinematheque or anywhere else, and above all - we have no media outlets to report about our activity and the suffering we experienced.

In our Nakba, we are alone. We have not only lost our property, which was left behind in Arab countries and is estimated at hundreds of billions of dollars today, but our rich culture and heritage as well. The culture and heritage of more than 50 percent of the State of Israel's Jewish residents.

The absorption of hundreds of thousands of Jews who came from Arab states is a victory for Zionism and Israel, but one cannot ignore the cultural oppression of these Jews, whose offspring were ashamed of their parents' descent and culture, asked not to speak their Arabic mother tongue and were forced to adopt a European culture.

Even worse is the educational system's disregard: Schools' curricula and the content in cultural institutions do not include the rich heritage and culture of the Jews who came from Arab and Islamic states, despite all the efforts made to change this situation.

Despite all the difficulties, there is only one organization today dealing with the rights and property of the Jewish refugees from Arab states, the Center of Organizations for Jews from Arab States and Iran. In addition, two lobbies have been established in the Knesset recently: The lobby for preserving and nurturing the culture and heritage of the Jewry from Arab and Islamic states, and the lobby for returning stolen Jewish property from Arab states.

The expulsion day is being marked Monday in an academic conference at Bar-Ilan University and in a key event at Jerusalem's Malha Mall, funded by the Ministry for Social Equality. In addition, the Foreign Ministry has instructed its representatives abroad to hold conferences with the local Jewish communities, and the Education Ministry has ordered schools to hold activities for the students on the issue of the Jews from Arab countries and their immigration to Israel.

While it seems that the refugees issue is starting to receive more national recognition, when it comes to the diplomatic field Israel's governments must keep working to ensure that in any future negotiations to solve the Palestinian refugee problem, in any mention of recognizing the refugees and deciding on the compensation mechanisms and actual compensation - both Palestinian and Jewish refugees will receive the same theoretical and practical treatment.

There will be no fair solution to the Palestinian refugee issue as long as a solution is not found for the issue of Jewish refugees and their stolen property.

Dr. Edy Cohen is an expert in Middle Eastern affairs and a research fellow at the Menachem Begin Institute for the Study of Underground and Resistance Movements at Bar-Ilan University.