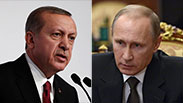 Putin and Erdogan. NATO should restrain the Turks and team up with Russia against ISIS
Photo: EPA, AP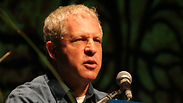 Major-General (res.) Giora Eiland
Photo: Ofer Amram
When it comes to war on ISIS, Israel must take Putin's side
Op-ed: Russia predicted the Islamic State's formation a long time ago and is right to expect to West to team up to defeat this top strategic threat; Turkey, meanwhile, is dragging NATO to defend Turkish interests rather than shared interests.
The recent tensions between Russia and Turkey reminded me of two meetings I held years ago, one with a Russian and the other with a Turk, which can provide an additional angle on the two countries' conduct.

About 11 years ago, the head of a Russian research institute arrived in Israel. In his meeting with me as head of the National Security Council and other Israeli officials, he claimed that the biggest danger to world peace was the existence of ISIS. True, the name "ISIS" was not mentioned, but the phenomenon represented by ISIS was predicted in amazing accuracy.

Radical Islam

Op-ed: Contrary to what many Western leaders think, the Islamic State is not a nihilist movement, but rather an organization which supports a totalitarian ideology like communism and Nazism.

The man spoke about the creation of an Islamic caliphate in crumbling Iraq, which would try to take over the Middle East and send its arms northward through the Islamic republics of the former Soviet Union towards Russia. Simultaneously, it would also take advantage of the West's weakness and turn to Europe. That man's conclusion was that both Russia and the Western countries and Israel have a shared enemy and a shared supreme interest to defeat it.

When I met with more official Russian elements, they repeated a similar claim, criticizing the United States' "foolish war" in Iraq and describing it as the factor which accelerated this pattern.

About a year earlier, I met with a high-ranking Turkish official - the Israel-Turkey relationship was excellent at the time - who spoke openheartedly about the Turkish national perception. "We understand that we will not be able to regain the lands controlled by the Ottoman Empire until 1917, but don't think that we accept the borders dictated to us at the end of World War I by the winning countries - led by England and France," he said.

"Turkey will find the way to return to its natural southern borders, which are the line connecting Mosul in Iraq to Homs in Syria. It's a national and just aspiration which is also supported by the existence of a large Turkmen minority in this area."

Three insights can be concluded from the connection between those meetings and today's reality: First of all, Russia predicted the formation of ISIS a long time ago and sees the organization as a top strategic threat; second, the Russians are right to expect the West to upgrade its fighting priorities similarly - in other words, to team up to defeat ISIS first and only then find the time to solve internal disputes; third, Turkey is a NATO member state, but instead of working in favor of NATO's shared interests, it is dragging it to defend Turkish interests - including hurting the Kurds, who are the only ones fighting ISIS on the ground, and well as an unnecessary provocation against Russia and, according to Russian President Vladimir Putin's accusations, providing economic aid to ISIS.

The conclusion must be clear: The threat posed by ISIS is similar in its totalitarian ideology to the threat which was created by Nazi Germany. Coordination between Russia and the West is not a sufficient condition for winning this war, but it is a necessary condition. The person who seems to understand this properly is French President Francois Hollande, and one can only hope that he will succeed in getting NATO to both restrain the Turks and team up with Russia.

Israel allegedly has opposing interests on this issue - but we should think about our situation if ISIS grows stronger and goes on to control Syria, Jordan and Sinai. For us too, the conclusion is clear - defeating ISIS comes first.

Major-General (res.) Giora Eiland is a former head of Israel's National Security Council.