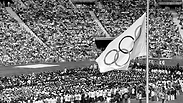 The flags were at half-staff, the games continued. Munich, 1972. (Photo: Getty Images)
The terrible cruelty with which the Palestinian Black September terrorists treated their Israeli athlete captives at the Munich Olympics in 1972 is being exposed, in both a new documentary feature and a New York Times article, featuring interviews with the wives of two of the victims. The film, Munich 72 And Beyond, and the interviews, give rise to horrific details of the athletes final moments, unknown to the public up to now.

Ilana Romano, widow of weightlifter Yossef Roman, and Ankie Spitzer, widow of fencing coach Andre Spitzer, spoke of the torture the athletes were put through, which wasn't known before. They said that the families of the athletes only found out the details 20 years after the massacre, when Germany released hundreds of pages of details of what happened.

"What they did is that they cut off his genitals through his underwear and abused him," Mrs. Romano said. "Can you imagine the nine others sitting around him, tied up, seeing this?"

The two widows, as representatives of the victims' families, were exposed to especially harsh photos of the slaughtered athletes. Mrs. Romano told the NY Times that the photos were "as bad I could have imagined." The paper's editors also saw the photos, deeming them to graphic to publish.

Yossef Romano was shot while trying to fight the terrorists at the beginning of their attack. They left him to bleed out before the eyes of his fellow athletes, and castrated him. The others were brutally beaten. They were killed during a failed raid by German forces near the Munich airport, where the kidnappers took the victims.

"The moment I saw the photos, it was very painful," Ilana Romano said. "I remembered until that day Yossef as a young man with a big smile. I remembered his dimples until that moment."

"At that moment, it erased the entire Yossi that I knew," she continued.

The families are making an effort to have the victims commemorated during all Olympic Games. Their pleas were rejected by the International Olympic Committee (IOC), but now, with the aid of its new president, Thomas Bach (a German man), the Israeli athletes will be commemorated with a Munich memorial site. Their names will also be cited during the coming 2016 Summer Olympics in Rio de Janeiro, Brazil.

The Munich massacre occurred on September 5-6, 1972. Members of the Palestinian terror organization Black September attacked and kidnapped members of the Israeli Olympic team, eventually leading to the deaths of eleven of them: Moshe Weinberg, Yossef Romano, Ze'ev Friedman, David Berger, Yakov Springer, Eliezer Halfin, Yossef Gutfreund, Kehat Shorr, Mark Slavin, Andre Spitzer, and Amitzur Shapira. In addition, Anton Fliegerbauer, a West German police officer, died during the failed attempt to rescue the athletes.