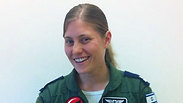 On December 31, the graduates of the most recent Air Force flight school class will stand on the parade field at Hatzerim Air Force Base in the south. Lt. Y' will be among them, receiving his wings while his parents, Anat and Hanan Ariel, watch from the bleachers. This will be the second time they watch one of their children receive their wings. Lt. Y' is the younger brother of Captain Tamar Ariel, who was killed by an avalanche while hiking the Annapurna range in Nepal in October 2014.

Her brother, Y', whose relatives say always admired his sister, watched her during her service and got his motivation to serve from her. Despite of the tragic loss of his sister, which happened while he was taking the course, he is set to finish in the most sought after category – as a fighter pilot.

Y's graduation may not be the last time parents Anat and Hanan Ariel watch the ceremony, as their youngest son, A', also started the pilot's course a few weeks ago.

Captain Ariel was the first religious female combat navigator to finish the grueling course. She stood out during her graduation ceremony as the only graduate wearing a skirt.

She also fought during Operation Protective Edge.

After her death, another religious female cadet finished the course. Lt. R', Tamar's good friend. She spoke about her connection with Tamar, who guided her and helped her through challenges and difficult times as a religious female in the course.

The avalanche in the Himalayas took place a year ago, and killed 10 people, including three Israelis: Capt. Ariel, Agam Loria, and Nadav Saham.