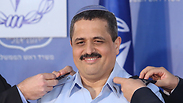 Commissioner Alsheikh. (Photo: Gil Yohanan)
Former Shin Bet deputy director Roni Alsheikh was sworn in as Commissioner of the Israel Police Thursday, in a small, quiet ceremony that took place at the Prime Minister's Office.

During the ceremony, Alsheikh was given his official Commissioner ranks by Prime Minister Benjamin Netanyahu and Minister of Public Security Gilad Erdan, under whose jurisdiction the Israel Police operates.

Alsheikh was in a good mood after the ceremony, making jokes about his leg injury by saying, "A short while ago I was sworn in, in a humble ceremony. The crutches aren't part of the protocol, but the Almighty made sure that my left leg would break, so as to insure that I'd enter the office on the right foot."


He later added, "To the citizens of Israel, if you'll allow me to learn from Moses: Say little and do much. I understand that I'll have to speak to the public, but I'll do it when I act. We are here to serve. Our role is to serve the normative citizens, to do our part to improve the norms of obeying the law, and all this while not compromising on fighting those who choose to define themselves as criminals or terrorists."

Prime Minister Netanyahu spoke after the ceremony as well, saying, "I'm convinced that there are problems and deficiencies in the police. A healthy body isn't one that's totally devoid of disease but one that can heal them, and I'm convinced that Roni will know how to do that."

He went on to say that "The work must include all of Israel's citizens. There aren't two states here, one that enforces the law and one that doesn't enforce security. Arab citizens deserve a life of order and security. We all deserve a situation where all laws are enforced. When you don't enforce laws, anarchy arises and extremist groups develop, it's important to every citizen in Israel."

Alsheikh's appointment as Commissioner came two months ago, at the end of a long and arduous journey. Minister Erdan and Prime Minister Netanyahu first wanted former commissioner Yohanan Danino to be replaced by retired IDF Brig.-Gen. Gal Hirsch, but his candidacy was dropped when the attorney general informed the government that he would not be able to properly defend the nomination against objections raised in the High Court of Justice.

Alsheikh was supposed to go into office over two weeks ago, but the ceremony was delayed because he fell in his home, broke his leg, and was hospitalized.

Alsheikh's appointment comes during a rough time for the Israel Police. In recent years, a number of senior officers have been implicated in cases of sexual misconduct. The police is also being criticized for displaying less-than-ideal efficiency in routine times, although they have been praised for their competency dealing with the recent terrorism wave.