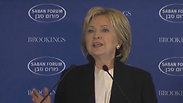 Clinton at the Saban Forum. Wants to distance herself from Obama, but still receive his stardom
WASHINGTON - Hillary Clinton took the stage at the Saban Forum on Sunday, speaking like a presidential hopeful with the White House on her mind, as she addressed the Jewish and Israeli audience in a warm and sympathetic speech.

A day after US Secretary of State John Kerry used the same platform to discuss the possibility of bringing about a peace agreement between Israel and the Palestinians with frustration and pessimism, Hillary arrived to offer hope.

Strong Relations

Op-ed: The relationship with America is an important element in Israel's national security perception. We must not give it up or harm it, especially at a time of such significant regional and international changes.

Clinton has no choice: In order to win the elections, she must distance herself as much as possible from the man who gave her the golden opportunity to enter the front row of American leaders, when he appointed her secretary of state in his cabinet: Her former boss, President Barack Obama.

On Sunday, at the Saban Forum in Washington, she did it without batting an eyelid: She said that she had supported the agreement with Iran although it was not perfect, but claimed that if Iran were to violate the agreement in any way, she would not hesitate to re-impose the sanctions and respond to any small violation, including in a military response.

Clinton got so carried away, that in a slip of the tongue she said she would not hesitate to use the "nuclear option" - referring, of course, to the military option. A few seconds later, in an embarrassed giggle, she corrected herself and clarified that she has no intention of turning Tehran into Hiroshima.

Hillary Clinton addressed the Jewish audience on Sunday, just as much as she addressed the Israeli audience which sees Obama as a weak and appeasing leader, who runs the foreign policy softly and weakly. Clinton stood on the stage, waved her hands and tried to clarify that if she enters the Oval Office, she will do what Obama did - only stronger, much firmer, with a big stick in her hand and with a minimum of soft words. As opposed to Kerry's pessimism, Clinton took the stage to present the hope - because in a campaign, as she very well knows, hope wins.

Clinton wants to distance herself from Obama, but still receive his stardom: She wants to position herself as an iron lady, far from Obama's reconciliation revolution - but at the same time, walk on the magic route he created when he brought the new spirit to America. She wants both, and Sunday's speech was the first time she exposed herself that way.

On Sunday, Clinton did not only look like a person who is well prepared to sit in the White House, but mainly as a person who is prepared to assume the role of the army's supreme commander. From this point, in order to win, she mainly has to watch what she has and beware of mistakes - hers, or Bill's.

Prime Minister Benjamin Netanyahu sent the Saban Forum a speech which was broadcast Sunday on video screens, in which he mainly addressed the Palestinian issue and the war on radical Islam. He did not respond directly to Kerry's pessimistic remarks that Israel could turn into a bi-national state, and claimed that he supports the two-state vision. He clarified, however, that the Palestinians are still unwilling "to cross the conceptual and emotional bridge of accepting a state next to Israel, not one instead of Israel."