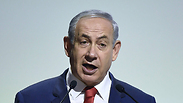 Prime Minister Benjamin Netanyahu named current National Security Advisor Yossi Cohen, 54, as head of the Mossad on Monday, replacing Tamir Pardo who took up the position in January 2011.

Cohen rose through the ranks of the Mossad after joining in 1982 and learning to recruit and handle agents on behalf of the intelligence agency.

Over the course of his career, Cohen was recognized as having considerable charismatic abilities and won the Israel Defense Prize for an operation in which he participated.

Netanyahu appointed Cohen as National Security Advisor in August, 2013 and the two have since become close working partners.

Cohen is a resident of Modi'in and a father of four. His wife is a nurse at a Jerusalem hospital.

Another candidate for Mossad chief was Rami Ben Barak, the current Director General of the Ministry for Intelligence Affairs.

Barak served among the IDF's most elite troops and joined the Mossad after completing his military service.

A third and final candidate for the appointment was Pardo's current deputy who served as an officer in the IDF's Paratrooper brigade before joining the Mossad.