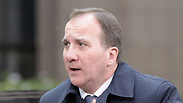 Swedish Prime Minister Stefan Löfven
Photo: AFP
Swedish PM: Knife attacks are not classified as terrorism
Stefan Löfven says stabbings are not considered terror attacks according to international classification; in later attempt to clarify himself he asserts it is unclear whether the attacks were sanctioned by internationally-recognized terror organizations.
Swedish Prime Minister Stefan Löfven on Monday tried to improve the strained ties between his country and Israel, but only raised more ire when claiming stabbing attacks were not considered terrorism.

"No, it is not classified as that. There is an international classification when it is, or is not. What I know is not classified as terrorism," he told Swedish news agency TT.

The relationship between Israel and Sweden has reached a new low following a series of comments made by Swedish Foreign Minister Margot Wallström, in the most recent of which she accused Israel of "extrajudicial executions" of Palestinian terrorists on the scene of the attack.

Löfven claimed Wallström's comments were merely misunderstood in Israel, and that "to say the foreign minister accuses Israel of such an action (extrajudicial executions) is completely wrong. She never said that."

Both Wallström and Löfven claimed the foreign minister did not specifically mean Israel in her comments.

"The situation in the Middle East is difficult enough without having to be encumbered by misunderstandings about anybody's intentions," a joint statement issued by Löfven and Wallström said.

Löfven later called the news agency in an attempt to clarify his own comments.

"I was referring to the fact it is not clear whether these knife attacks have been organized by some classified terrorist organization. But organized attacks are precisely acts of terrorism," he said.

Last month Wallström caused anger in Israel when she seemed to imply that there was a connection between Islamist terrorism and the "desperate situation" of the Palestinians.

During an interview on Swedish TV channel SVT2, shortly after the Paris attacks, she was asked if she is concerned about the radicalization of Swedish youth who fight with Islamic State.

"Of course we have cause for concern, not just in Sweden but throughout the world, because there are so many being radicalized," Wallström replied.

"And again, it reminds us of the situation in the Middle East, where the Palestinians see that there is no future for them and have to either accept a desperate situation or resort to violence," she added.

The Foreign Ministry's director-general, Dr. Dore Gold, invited Swedish Ambassador to Israel Carl Magnus for an urgent discussion to clarify Wallström's comments.