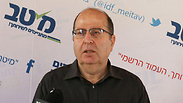 Defense Minister Moshe Ya'alon said on Sunday that Israel will defend its soldiers from being put on trial for war crimes abroad after an IDF officer in reserves was briefly detained in Britain for participating in the fighting in Gaza the summer of 2014.
The names of IDF soldiers who participated in Operation Protective Edge have been reaching Palestinian organizations in different ways: Some were released after being given commendations, and some after the soldiers themselves posted about the subject on social media and news sites.
"The State of Israel supports the combatants and commanders who go out to fight for it," Ya'alon said, "we will defend each soldier if this or that body were to persecute them and try to harm them during their stay abroad. This is an infuriating and intolerable phenomenon, and we have no intention of compromising in the fight for IDF troops. We will put forth all of the means at our disposal to defend any of our soldiers."
Ya'alon continued, "We are aware of the foolish attempts by different organizations to slander us and the soldiers of the IDF around the world, and it's a struggle that requires us to expose the true face of these very people, while simultaneously defending the soldiers. I also experienced such personal persecution in different countries in the world, but we can't let this discourage us."
The defense minister accused organizations that persecute IDF combatants abroad of "hypocrisy and false propaganda against IDF soldiers and the State of Israel."
Ya'alon said he has forbidden IDF veterans organization Breaking the Silence from conducting any activities with the Israeli military because the group "is part of the attempts to delegitimize us."
Since its founding in 2004, the group of former Israeli soldiers has collected testimony from more than 1,000 veterans who described improper or illegal behavior against Palestinians.
"If its people were truly worried about our morality, as we worry and try to preserve our moral values, they would work directly with the IDF, instead of smearing our soldiers abroad. In the past, there have been attempts to clarify events and cases that Breaking the Silence pointed out, and they fell through. As time went on, it turned out that this is an organization that operates with malicious motives, and we will fight diligently against this kind of phenomenon."
Breaking the Silence spokesman Avihai Stollar says his organization focuses on informing Israeli civilians, but has conducted about half a dozen workshops or lectures with the military in the past year.
He says Yaalon's comments on Facebook Sunday obscure "the daily moral price of a prolonged military occupation."
The Associated Press contributed to this report.