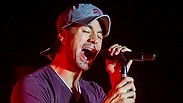 Spanish pop star Enrique Iglesias performed Wednesday night to a sold-out audience at Tel Aviv's Menora Mivtachim Arena as part of his Sex and Love Tour supporting his tenth studio album of the same name.

His lively performance was 75 minutes of pure ecstasy which enabled the audience to completely forget about the anxieties that come with living in the crazy country that is Israel.

Enrique Iglesias concert opening (צילום: ירון שרון)

Some years ago, Enrique Iglesias, along with other big stars from the 1990s and early 2000s, was more or less swallowed up by the "dance producers' genre" which took over the top 100 hits. Here a track with Pitbull, and there one with David Guetta. The romantic of "Hero" or "Bailamos" was trampled under drum beats.

'I'm a Freak' (צילום: ירון שרון)

Iglesias' hip new sound did not stop him at all from bringing down the house Wednesday night and performing the hits Israelis remember from the past as well as his new material.

'I Like How It Feels' (צילום: ירון שרון)

"I will never leave Tel Aviv," Iglesias said towards the end of his relatively short 75 minute concert. The truth is, he boarded a plane immediately after the last song, but will return to Israel for another concert next Tuesday. In any event, for the enamored girls in the audience, aged 10 to 80, the performance was absolutely perfect.

'Heartbeat' (צילום: ירון שרון)

This was a live performance that highly respected the audience

as the artist learned a bit from his previous performances and didn't try to teach them how to sing. Enrique came here to belt out his greatest hits, not to try out new material. He came simply to enjoy himself and make others enjoy themselves.

Iglesias, in fact, did exactly what an international artist of the highest order should do: raise the audience above the clouds, without politics, with much love and with fire in the eyes.