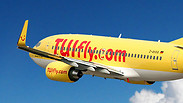 TUIfly plane. Heading to Israel soon
Photo: Tuifly.com
German low-cost airline TUIfly, which is owned by the world's largest travel and tourism corporation, will return to Israel and offer flights on the Tel Aviv-Munich route starting March 2016.

The airfare will start at €218 (about $237) for a round-trip ticket.

Growing Competition

British airline returns to Israel after a 10-year absence with three weekly flights to Tel Aviv and one to Eilat; cheapest one-way ticket to London offered for $75.

The flights will begin on March 7, departing from Munich on Tuesdays and Thursdays and from Tel Aviv on Wednesdays and Fridays. The flights from Germany will leave for Israel at 7:25 pm and land in Tel Aviv at 12:05 am. The flights to Germany will leave from Israel at 1:20 am and land in Munich at 5:05 am.

According to the company's representative in Israel, Moni Bar, flights which leave around midnight have an advantage over flights that leave at 5 am, as passengers don't arrive at their destination after a sleepless night at the airport.

The company's flights will be operated on Boeing 737-800 planes, and the reduced price does not include a luggage fee or meals. Checking in a 20-kilogram suitcase will add €15 in each direction. Passengers can check-in for TUIfly flights online for free, or pay an additional fee for an airport check-in.

Passengers who choose to purchase tickets for a Perfect fare (an additional €20) will receive a free baggage limit of 20 kg, a snack and a non-alcoholic beverage, free airport or online check-in and rebooking for an additional subcharge.

TUIfly is a subsidiary of multinational travel and tourism company TUI, which owns six airlines including Thomson Airways, Nordic, Corsair and Jetairfly. The corporation also has 1,000 hotels rooms around the world in a number of brands and 15 cruise ships. It employs 75,000 workers and ended 2014 with a turnover of €32 billion and more than 25 million sold vacation packages.

Two airlines, El Al and Lufthansa, currently operate regular flights on the Tel Aviv-Munich route. A random examination of different dates offered by the companies reveals that El Al offers flights starting at $289 in the winter season, while Lufthansa's flights start at $340. The fare includes baggage and a meal.

According to TUIfly's Israeli representative, the company is planning to increase the volume of its activity in Israel in the future, depending on regional developments. Due to the fact that TUI is active in 114 countries, Moni Bar believes that if the Tel Aviv-Munich route succeeds, the company will consider introducing additional routes, including flights from Russia and other countries.

"In the past year, TUI has brought some 1.8 million tourists to Egypt, most of them to Sharm El-Sheikh and Hurghada and some to Cairo," he says. "These are numbers which Israel can be blessed with, and if the situation here is stable, there is no reason why this corporation, with its subsidiaries, won't succeed in bringing to Israel hundreds of thousands of tourists a year."