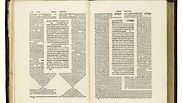 A 16th-century copy of the Talmud
Photo: Sotheby's
A 16th-century copy of the Talmud was on Tuesday sold at a New York auction for $9.3 million – a record for Judaic antiques.
A source confirmed that the buyer was Leon Black, a New York businessman. Sotheby's declared that the sale was a world record for any Judaic item, according to Tablet Magazine.
The rare edition of the Babylonian Talmud was printed by Daniel Bomberg in the 16th century and was estimated to fetch about $5-7 million. Bomberg was the first person to print the full edition of the Babylonian Talmud, making the manuscripts he printed among the most valuable in the Hebrew language. A mere 14 complete copies of the Talmud printed by Bomberg are known to exist in the world.
The $9.3 million Talmud was the crown jewel of the auction by the Valmadonna Trust Library, a major private collection of Hebrew manuscripts, whose custodian is Jack V. Lunzer. The sale irked some researchers, who claimed it violated Lunzer's stipulations.
The Forward reported that 12 books were on offer at the auction, out of a collection containing some 13,000 rare Hebrew books. Lunzer considered selling in the past, but always on the condition that the collection be purchased in its entirety, that it remain accessible to researchers, that the purchaser agree never to break the library up.
Now 92, Lunzer suffers from dementia, and the trustees decided to sell some of the rarer and more precious books after failing for years to find buyers willing to pay for the complete collection.
Researchers who banked on Lunzer's demand to keep the collection complete and accessible are outraged. ""It would be a terrible loss to the Hebrew book lore to have the rest of the printed book collection dispersed," Brad Sabin Hill, the curator at the I. Edward Kiev Judaica Collection at George Washington University, told Forward. "I would consider that to be unfortunate."
The trustees, however, said it was necessary to sell the books in order to make the full collection more affordable.
According to AFP, the 12 items in Sotheby's auction were sold for a total of $14.9 million, which included $3.6 million for a 12th-century bible.