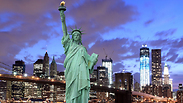 Making it big in New York City
Photo: Shutterstock
Many people come to New York City with big dreams. Many of them return home disappointed, others work for years before seeing results, and very few make it within a year.

Meet the exception: Chef Nir Mesika from the northern Israeli town of Kiryat Motzkin, who has made it big time. Eight months ago, Mesika opened a restaurant called Timna in the East Village. Last week, it was chosen as the Best New Restaurant in the United States by the readers of USA Today and 10Best.

Israeli Pride

The Palomar in London, which belongs to owners of Jerusalem's famous Machneyuda restaurant, described by British GQ magazine as having 'the most chutzpah of any food and drink establishment operating in the country right now.'

The 10Best Readers' Choice Awards is one of the most popular year's end summaries in the American mainstream media.

"When we heard we were selected, I actually had trouble breathing for a few seconds," Mesika said Monday, his only free day during the week. "It's an insane feeling, completely delusional.

"Now that I have calmed down a bit, I can honestly say that it's not that surprising. Not after all the hard work we put into this place. We invested our entire souls in here. But for someone to say that I, Nir Mesika of Kiryat Motzkin, am the chef of the best new restaurant in the US? That's unbelievable."

Mesika, 32, began his career as a sous-chef in Tel Aviv's Goocha restaurant. At the young age of 24 he opened a kosher restaurant called Denzel in Milan, and upon his return to Israel he began working in Chef Meir Adoni's Catit restaurant. When Adoni opened his Mizlala restaurant, he asked Mesika to serve as the sous-chef. Mesika agreed and that decision changed his life, as that is where he met his future wife, Liat.

When Liat got a job in New York, he moved there with her. For a year he ran a restaurant in Williamsburg, before opening Timna with his partners, Ori Apple and Amir Nathan. And the rest is history.

"My dream has always been to put Israel on the culinary map," Mesika says. "We really came from an idealistic place, but the truth is that at first we were afraid to openly declare it an Israeli restaurant."

Why?

"Politics, security, things like that. We were afraid that people wouldn't want to come in for all kinds of reasons. But we very quickly said, 'f**k it, this is the food we want to serve.'

"At the end of the day, it's also the right thing to do from a business perspective, because New York has all types of food, but Israeli food still has a lot of room to grow here."

Have you always known that this is what you want to do?

"Always. When everyone watched football matches, I watched cooking shows on TV. I have been in the kitchen since the age of 13 or 14, trying out things. When my mother was at work, I would prepare food for my sister. My entire family still talks about the macaroni with feta cheese and za'atar that I made for my sister. She was the first person I experimented on with different dishes."

A dinner for two at Timna will cost you up to $120. The most popular dishes are Bedouin octopus, Moroccan "harira" stew, lamb saddle, Mediterranean sashimi and kubaneh bread. If you arrive for brunch during the weekend, you'll be able to enjoy an Israeli breakfast, shakshuka or masabacha. The upcoming New Year's Eve meal is offered at $120 per person for a six-dish menu.

"On the one hand, this is obviously a highlight I never dreamed of," says Mesika. "But on the other hand, I feel it's just the beginning. People are telling me, 'Wow, you've won the lottery,' but it's not true. I haven't won the lottery, I've worked very hard. I spend 17 hours a day in the kitchen, and if I don't keep up the hard work, none of this will remain."