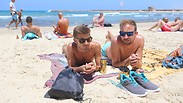 Tourists in Tel Aviv
Photo: Yaron Brener
Some 3.1 million tourists visited Israel in 2015, a 3 percent drop from 2014, according to figures released Wednesday by the Tourism Ministry.

The number of tourists who arrived for a vacation (excluding one-day visits) was 2.8 million, a 4 percent drop from 2014. Out of the 3.1 million visitors, 2.5 million entered Israel via air (a 1 percent drop) and 292,000 entered via land - a 27 percent drop due to the escalation in the security situation.

About 313,000 entries were for one-day visits, a 32 percent increase from 2014, which mainly stems from businesspeople's fear of staying in Israel for longer periods of time.

The highest number of tourists arrived from America - 20 percent of all entries (586,000), a two percent increase from 2014. The Russians came in second with 392,000 tourists - 14 percent of all entries and a 26 percent drop from 2014, which stems from the economic situation and exchange rate changes that led to a decline in Israel's attractiveness as a tourist destination.

The French were in the third place with 277,000 tourists, 10 percent of all visitors - the same as last year. The Germans and Brits, with 185,000 tourists each in 2015, made up six percent of all visitors each.