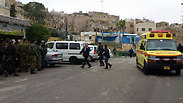 Scene of the attack
Photo: TPS
3 Israelis wounded in 3 terror attacks
Israeli soldier lightly wounded by sniper fire in south Hebron Hills, Israeli man lightly wounded by stabbing attack in Jerusalem and female soldier moderately wounded in stabbing attack near the Cave of the Patriarchs in Hebron; troops searching for shooter who fired from afar.
An Israeli soldier was lightly wounded after being shot in the leg by sniper fire at the Hakvasim Junction in the south Hebron Hills on Sunday evening. IDF troops are searching for the suspect.
Follow Ynetnews on Facebook and Twitter

The incident marked the second epsiode of sniper fire towards soldiers in the Hebron area on Sunday.

Earlier on Sunday afternoon, an Israeli man was very lightly wounded in a stabbing attack in Jerusalem on Sunday afternoon. The terrorist was captured not far from the scene.

The attacker arrived at a bus stop on Barazani Street in the capital, where he took out a knife and tried to stab a civilian waiting for the bus. The knife failed to break the skin, and the attacker then fled the scene. A suspect fitting the description given to police was caught in the area shortly thereafter.

Earlier, a female soldier was wounded in a shooting attack near the Cave of the Patriarchs in Hebron. Israeli security forces were searching the area for the shooter, fired from one of the surrounding Palestinian homes.

The wounded soldier was taken to the Shaare Zedek Medical Center in Jerusalem in moderate condition.