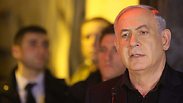 Netanyahu at scene of Tel Aviv shooting. An expert in putting on a show
Photo: Motti Kimchi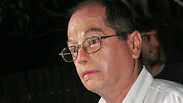 Amnon Abramovich
Photo: Tzvika Tishler
The prime minister's empty commitments
Op-ed: Last week, Netanyahu allotted a future budget to strengthen Israel's Arab sector; on Monday, he said the budget would only be received under good behavior. If behavioral tests were a condition for receiving budgets, quite a few sectors would not see a single shekel.
Prime Minister Benjamin Netanyahu's appearance at the scene of an incident, like he did after the terror attack in Tel Aviv, costs Israeli taxpayers about NIS 400,000-500,000 ($100,000-130,000), according to calculations of the transportation, organization and security conducted by knowledgeable people.

Some prime ministers choose to give up the display due to the high costs, while others specialize in putting on a show. Never mind, we can afford it. If we're being asked to fund dog food, we'll definitely not save on mass communication initiatives.

Errant Weed

Op-ed: While there may be incitement in the Arab sector, only few of its members have turned to hostile activity. The unequivocal condemnation issued by the Tel Aviv terrorist's family and neighbors and all Arab Knesset members is real.

Netanyahu attached the national podium to the Simta pub, where the murder took place, and stuck as always in his rhetoric to the anchor term "security," although security is not his strong side. Throughout his accumulated 10 years as prime minister, every security-related, military and operational issue he has touched has fallen out of his hands.

The Western Wall Tunnels, the Mossad's entanglements in Cyprus and in Switzerland, the attempted assassination of Hamas leader Khaled Mashal, the assassination of Hamas commander Mahmoud al-Mabhouh, the Marmara raid, Operation Pillar of Defense, Operation Protective Edge which lasted 51 days and ended in an embarrassing tie, not to mention the fact that during his long watch, Iran paved its way to the status of a nuclear threshold state and upgraded its arsenal of ballistic missiles.

Regardless of what his rivals on the right and on the left say, Netanyahu - more than any other politician - knows how to create the impression that he has the ability to make a decision, that he has the ability to pass a decision he has or hasn't made, that he has the ability to implement a decision he has or hasn't passed.

His comments on Saturday evening reminded me of many commitments he has made on different issues. During a cabinet meeting six years ago, he delivered a speech on economic issues, not security issues, on the cost of housing, with the same dramatic tone and resolve. As if he had experienced a sudden realization, as if it were a pivotal moment, a turning point, as if there was one Israel before that moment and there would be a different Israel after that moment. He has been blessed with a huge talent to create a new state of affairs by mere words.

And this is what he said during the cabinet meeting on January 17, 2010: "The bureaucratic monster creates a situation which exists in no other civilized state. We are about to bring down the wall of bureaucracy, simplify the processes, shorten them and make them transparent and efficient.

"Because the construction has been choked, entire parts of the Galilee and the Negev are off limits, people are being pushed into the short and narrow strip of Hadera-Gedera-Jerusalem and apartment prices are astronomic. Because there is no land and no planning and because we are not spreading to the Galilee and to the Negev, prices are astronomic and supply is minimal. More and more young couples are living with their parents, former soldiers are incapable of buying an apartment, and Israel's citizens see an apartment as a distant dream which they must mortgage a significant part of their life for.

"We are about to change that today using three principles: Efficiency, transparency and a war on corruption. We are not presenting empty words here. We are going for a decision which will be implemented. I have defined the objective of this Knesset session as passing the first reading of the bill I presented today, and in the next session it will pass its second and third readings."

Since that speech, he has headed two additional governments. Apartment prices have almost doubled since then. The construction in the Galilee and the Negev, which were mentioned as a national target, and the migration to those areas have not really increased. The construction in the territories, which were not mentioned, and the settlement there are looking quite good.

Violent crime is soaring in the Arab sector, and there is hardly any enforcement. There have been murder cases in the State Prosecutor's Office which were not filed because they failed to find a policeman who would agree to enter the village and bring the prosecution's necessary evidence - the knife or gun used to commit a murder. The Shin Bet is renouncing its responsibility and avoiding operating there, unless it's a case with a clear nationalistic motive. Only few police stations have been opened there. The government has ignored the pleas made by the Arab public's leaders to collect weapons. The attempt to recruit Arab policemen has not yielded much, just like among the Jews, due to a ridiculous starting salary.

Last week, Netanyahu allotted a future budget to strengthen the Arab sector. On Monday evening, he imposed conditions, saying the budget would only be received under good behavior. If behavioral tests were a condition for receiving budgets, quite a few abundant sectors would not see a single shekel.

Netanyahu is intelligent, educated, understands humor and locates irony. He is fun to talk to. In terms of the quality of a face-to-face conversation, he is one of the best prime ministers I have gotten to know. Assuming you're talking to an academic, a theoretician or an information minister - not a prime minister.

Amnon Abramovich is a Channel 2 News commentator.