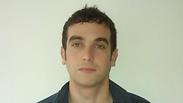 Lachover. Lightly wounded after a protective vest failed to protect him. (Photo: Channel 1 PR)
In the wake of a wave of stabbing attacks in Israel, a company decided to produce and start marketing what they billed as a protective vest that would guard the wearer against knife assaults.
Follow Ynetnews on Facebook and Twitter

On Wednesday, reporter Eitam Lachover, who according to an announcement by the Israel Broadcasting Authority, was working on a story for Channel 1's evening news ("Mabat"), dealing with protective vests, ended up in hospital after testing the vest.

During the story's preparation, Lachover met with representatives of a company that manufactures vests for security forces, as well for as the civilian market. While trying one on, Lachover asked the representatives to stab him in order to test how effective the vest was.

Unfortunately, the vest failed to protect Lachover sufficiently. The knife penetrated the garment, causing light stab wounds to his back.

The Broadcasting Authority said that the company representatives "were greatly embarrassed by the incident, and gave Lachover immediate aid." He was evacuated to a hospital, and was later reported to be in good condition after receiving stitches.