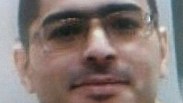 The death of terrorist Nashat Melhem depended solely on if and when he made a fatal mistake. Even a careful and meticulous terrorist, who made sure to think of his attack and escape in very specific detail, has a high chance of making a mistake that would expose his location: Contact with an associate giving him assistance, switching hiding spots, a mobile phone call, and more. Nashat Melhem seems to have done all of these, albeit not all at once.

Melhem was found, among other reasons, because he apparently took with him the cell phone stolen from taxi driver Amin Shaban, whom Melhem murdered after the attack on Dizengoff Street. The police were told to capture him alive, and Commissioner Roni Alsheikh was in the command center, paying close attention.


Melhem fled to the Wadi Ara town of Arara, where his family has lived for generations, and where all of his acquaintances reside. This fact shows that Melhem probably did not work for ISIS or some other terror organization. He did, however, seem to have been assisted by people from the town, as well as people outside it, who had the desire and ability to help him hide away.

It's important to note that the towns of the Triangle area along the Wadi Ara road are a hotbed and support center for the Islamic Movement in Israel. It's very likely that Nashat Melhem received aid from people he knew, and that he hoped to use their help in fleeing to the Palestinian territories. From there he likely hoped to escape to Jordan, and then Turkey or Syria.

Melhem cleverly avoided switching hiding spots too many times. Each one of these switches could expose someone who's on the run.

All the while, security forces were working on two fronts: They had a heavy presence in areas which they concluded Melhem might be in, according to different pieces of intelligence, and meanwhile arrested and intensively interrogated members of his family. The result was that he was forced in the end to make the mistake that led to Israeli authorities locating him, and ultimately to his death.

Nashat Melhem was, no doubt, a cold-blooded man who planned his actions and was aware of what might lead security forces to him. However, it's clear that he was driven by personal impulses and anger, which grew and accumulated in his mind. Now what's left is to find out whether or not he was in contact with organization from within Israel or abroad, and whether he was aided by others in planning and perpetrating the attack, and not just during his escape.

The silver lining in this dark cloud was the reaction by Israeli Arabs, specifically Wadi Ara residents, who condemned the attack. These condemnations are, without a doubt, quite extraordinary, since the come during a wave of lone wolf terror attacks that Nashat Melhem seems to have been a part of.

We must also mention that there are details to this story, specifically details pertaining to Nashat Melhem's father and the gun that he had in his possession, which still require examination.