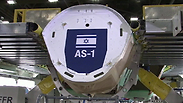 The body of the new F-35 fighter jet
Israel's first-ever stealth fighter jet took a significant step towards completion at the end of last week, when the new "Adir" F-35 entered the advanced production stages at Lockheed Martin's plant in Forth Worth, Texas. A ceremony was held on-site to mark the milestone.

The new F-35 is the first such aircraft that will be used by the Israeli Air Force. The Defense Ministry has ordered 33 of the fighter jets from the US at a total cost of $4.75 billion, which includes the building of infrastructure from which the aircraft can operate as well as making changes specified by the IAF.

The individual cost of the "Adir" F-35 is $110 million, making it the most expensive fighter jet the IAF has ever had. It will also be the most advanced stealth fighter in use by Israel.

At the ceremony at Lockheed Martin's plant, the head of the Defense Ministry's delegation to the US, Aharon Marmaroush, signed the body of the first jet on Israel's behalf. He added in Hebrew: "Onwards and upwards. Good luck with the rest."

The next stage of production will include work on the jet's advanced electronics system and the engine in the plane's fuselage.

"This is a historic day. The fifth-generation F-35 will take the IAF forward and upwards, and significantly improve its ability to protect the State of Israel," Maramoush said at the ceremony.

The first two F-35s will land in Israel in December 2016, with the rest arriving over the following years, until 2021. Israel also has the option to purchase an additional 17 of the fighter jets, which it is expected to take and even increase.

The IAF is currently expected to establish two bases for the "Adir" jet, although it may request to operate a third.

The F-35 is the first jet that the IAF will use which has been built in order to evade radars, and will have Israeli security systems installed. Among others, Elbit will produce an advanced helmet that will display information in front of the pilot's eyes as well as guide missiles in air combat.