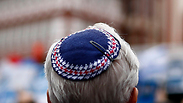 Archive photo of a man in a yarmulke (Photo: Reuters)
Photo: Reuters
Jews across Europe are taking off their yarmulkes and prayer shawls and hiding their Star of David necklaces as the fear of anti-Semitic violence continues to grow across the continent, Israel's Ministry of Foreign Affairs has said.

At the same time, Zvi Ammar, the head of Marseille's Jewish community, has called on the city's Jewish residents to stop wearing yarmulkes in the wake of an attack on a Jewish teacher on Monday morning.

Benjamin Amsalem, an ultra-Orthodox resident of the southern French city, was attacked with a machete by a 15-year-old Turkish citizen of Kurdish origin, who was caught after a brief chase.

In his interrogation the stabber said that he had attacked Amsalem in the name of Islamic State and that he was also planning to attack police.

"The stream of events means that we need to take exceptional decision," Ammar said. "Life is more sacred than anything else. We need to hide a little."

The head of the Department for Combating Anti-Semism in the Ministry of Foreign Affairs, Gideon Bachar, said: "There is a sense of growing fear and worry among Europe's Jews.

"Many Jews feel that their Jewish identity is a threat to them. We know that many have stopped going to synagogue on holy days for fear of terror attacks. To our regret, Jewish life is taking place more and more behind walls, armed guards, police and security cameras."

The Ministry of Foreign Affairs called on European governments to increase the level of security for Jewish communities and institutions throughout the continent, including synagogues, community centers, schools and kindergartens.

The rise in aliyah from Europe to Israel is also testament to the growing impact of anti-Semitism on European Jews. Aliyah has also grown from countries such as Canada, the US and Australia. "We are seeing a lot of Jews leaving France making aliyah, or leaving France and Europe. The numbers are not huge but there is a clear phenomenon," Bachar said.

Meanwhile, police in France are investigating the murder of Jewish politician Alain Ghozlan, who was found dead in his home on the outskirts of Paris on Tuesday morning, was motivated by anti-Semitism.

Ghozlan, a prominent figure in the French Jewish community and a resident of Créteil – a predominantly Jewish suburb of the French capital – failed to show up to his synagogue on Monday evening or Tuesday morning, arousing his brother's suspicions.

Arriving at Ghozlan's apartment, his brother found the body, which showed signs of violence. The initial indication is that Ghozlan was beaten to death.

Ghozlan's credit cards and car had disappeared, but according to local media the French police have not rejected any line of enquiry and are investigating possibilities from robbery to anti-Semitism.

Ghozlan was a member of the Créteil local council as well as of the local Jewish community.

The police are also investigating the possibility of anti-Semitism due to the current rise in such incidents in France.