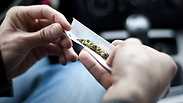 A medical marijuana joint
A potential cannabis revolution may on the horizon in Israel, thanks to an unlikely source. The Health Ministry, under the stewardship of ultra-Orthodox minister Yakov Litzman of the United Torah Judaism party, on Tuesday published a plan that is expected to open up the medical marijuana market to new farms and sellers.

According to the plan, there will be no restrictions on the number of dealers in the field of medical marijuana. Anyone who meets the quality and safety requirements will be able to submit a request for the necessary license to deal in the trade.

The plan is being presented to the public in order to hear remarks and objections. If it is found that the number of people with the license endangers public safety or doesn't allow for sustainable economic activity, the plan will be altered.

The Health Ministry does not intend to restrict the number of farms growing cannabis that only grow it in suitable greenhouses and hold a valid license according to the Dangerous Drugs Ordinance.

There are currently only eight farms in Israel that grow cannabis. The new plan would significantly increase this number.

The plan stipulates that there will be separation between different stages in the chain of growth, production and supply (e.g. farms, factories, trading). Product will be able to be distributed either as "buds," in bulk or rolled up in cigarettes.

Litzman had already announced four months ago that he intended to revolutionize the medical marijuana trade in Israel. "Even today there are pharmacies giving out all kinds of other medicines such as morphine. We will also sort out cannabis. There wil be registration and we will supervise it.

"But it will be to the same standard as medicine."