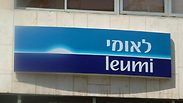 Bank Leumi, among the blacklisted banks
Photo: Omer Hacohen
The United Methodist Church on Tuesday placed five of Israel's largest banks on a blacklist of companies it will not invest in, citing "human rights reasons," the New York Times reported.

The church is one of the largest Protestant denominations in the US and numbers at more than seven million members.

The church's pension board listed Bank Hapoalim, Bank Leumi, First International Bank of Israel, Israel Discount Bank and Bank Mizrahi-Tefahot. Thirty-four other companies from several other countries have also been excluded from the board's investment portfolio for failing to meet its Human Rights Investment Policy guideline.

According to the Times, it appears to be the first time the pension fund of a large American church has taken such a drastic step against Israeli banks, which the pension board says help finance settlement construction in East Jerusalem and the West Bank.

Palestinian advocates in the church and outside of it described the decision as an important step for the Boycott, Divestment and Sanctions Movement (BDS).

But other sources in the church said the move was not influenced by the BDS movement, as the church continues to invest in other Israeli companies, and its members had opposed divestment resolutions raised in the past.