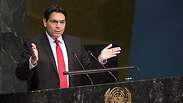 Israeli Ambassador to the UN Danny Danon. Demanded condemnation of the contst.
(Photo: UN photo/Cia Pak)
Iran has announced that it will be holding a cartoon contest aimed at creating caricatures denying the Holocaust. This year, the contest's grand prize has been increased from $12,000 to $50,000.

The contest, organized by the Teheran municipal authority, is calling for cartoonists worldwide to send in works denying and satirizing the Holocaust. Unlike previous contests of this kind, this one is especially significant due the fact that it is organized by official authorities of the Iranian capital, and has an international emphasis. The prize money is also several times what it was before.

Israel's UN Ambassador Danny Danon contacted UN Secretary-General Ban Ki-moon, demanding an official condemnation of the contest. Danon wrote that holding the event is an anti-Semitic act that expresses true evil, and that Holocaust denial is the strongest expression of anti-Semitism, which gives legitimacy to the murder of six million Jews.