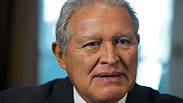 President of El Salvador Sanchez Ceren
A severe diplomatic crisis has broken out between Israel and El Salvador due to the Foreign Ministry's decision last week to close its embassy in San Salvador.

The closure is part of the Ministry's plan to close five diplomatic missions abroad due to budget cuts. Diplomatic sources said that El Salvador is considering closing its embassy in Israel and moving it to the area controlled by the Palestinian Authority.

El Salvador's Ministry of Foreign Affairs gave Israel a diplomatic letter which stated that it received the news of the closure with shock, disappointment and complete surprise. They were particularly hurt by the fact that they learned about the decision from Yedioth Ahronoth.

Moreover, the new Ambassador of El Salvador, Werner Matias Romero, a very senior diplomat who served as the head of El Salvador's Ministry of Foreign Affairs in the past, came to Israel only two months ago with the aim of strengthening relations between the two countries on all levels.

Romero said that his country still hopes to reverse the decision: "I am very worried that this decision will open a Pandora's box. What Israel has done is to bite the friendly hand that was outstretched to it. This is not how one acts towards friends. It could definitely strengthen the voices in El Salvador opposed to ties with Israel."

He added that El Salvador is one of the countries most friendly to Israel - it supported the establishment of the State of Israel, a Salvadoran diplomat saved thousands of Jews during the Holocaust and was recognized as a Righteous Gentile, and it had its embassy in Jerusalem from 1986 to 2006.

If they fail to reverse the decision, El Salvador intends to consider closing its embassy in Israel, and transferring it to Ramallah or Cairo, while reducing its diplomatic corps in Israel to a minimum.

El Salvador was the last country to have its embassy in Jerusalem, until they decided to move it Herzliya in 2006 in the wake of the Second Lebanon War and following a similar decision by Costa Rica.

El Salvador has been one of Israel's best friends in Latin America. However, relations have cooled in recent years because of the rise of the left to power in El Salvador. The closure of the Israeli embassy in El Salvador has already caused political damage in the form of expressions of dissatisfaction on the part of other countries on the continent.

The Foreign Ministry saves a million dollars a year by closing a diplomatic mission. But this is a marginal saving compared to the heavy political damage it entails. Belarus also announced that it will close its embassy in Israel in protest to the Israeli decision to close the Israeli embassy in Minsk.