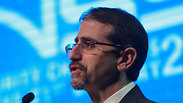 US Ambassador Dan Shapiro's condemnation of the Israeli government on Monday was a rarity, but no accident: He was working to the directions of his employers.

Shapiro's comments, which came just one day after the brutal murder of Dafna Meir in Otniel and hours after a pregnant woman was stabbed in Tekoa, are significant in that they suggest the Obama administration will no longer tolerate human rights violations by our decision-makers against Palestinians in the West Bank. From the perspective of the White House, "enough is enough."

Behind Shapiro's criticism is the possibility that the White House is actually joining the European Union and is liable to take similar steps that differentiate between Israeli territories inside the Green Line and those that were conquered in 1967. It's no exaggeration to assume that Israel will no longer be able to rely on the US's veto at the UN or to enjoy the automatic support that we have been used to.

Throughout his term Shapiro has been careful not to air dirty laundry in public or to reveal the prevailing hostility between the White House and Prime Minister Benjamin Netanyahu. However, he changed direction on Monday and uttered truths that until recently had only been discussed behind closed doors.

The Prime Minister's Office responded to Shapiro's comments with a statement that echoed Netanyahu's populist line, trying to draw a link between stabbing attacks like those in Otniel and Tekoa and criticism of Israel's policy for tackling Palestinian terror. It points to hysteria and losing one's way.

The day after the signing of the nuclear agreement with Iran, the US actually reminded us that the time had come to bring new ideas in order to reach a solution to the bloody conflict with the Palestinians.

It is fair to request that the prime minister present a horizon with some kind of agreement. One cannot settle for this series of well-worn answers from Netanyahu that promise to catch the murderers who are attacking us.

It would not be fair to demand that army commanders and security forces provide the solution to a reality of terror and threats that we have been living in for the last four months. Such a request needs to be made of the prime minister and the ministers serving in his government.