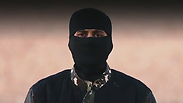 The Islamic State group confirmed on Tuesday that its fighter Mohammed Emwazi, more commonly known as executioner "Jihadi John," has indeed been killing in an airstrike in the city of Al-Raqqah in Syria two months ago.

Emwazi is featured in the new issue of the organization's English-language Dabiq magazine. The short article about him states that he was killed instantly.

"Abu Muharib al-Muhajir, the mujahid who made headlines around the world as 'Jihadi John,' was originally from the northeast of the Arabian Peninsula, while his mother originated from Yemen," the article states.

"At a young age, the honorable brother traveled with his family to London. This would become a place he grew to hate along with its kafir people, whose customs were far-removed from the praiseworthy values he was much accustomed to," the article goes on to say, next to a photo of Emwazi - unmasked.

Jihadi John is infamous for several videos released by ISIS showing him executing prisoners. A 6 million GBP reward was placed on his head.

He first made headlines when he beheaded American James Foley. The video of Foley's execution followed by videos of Emwazi executing Steven Sotloff, David Haines, Alan Henning, Peter Kassig, and the two Japanese Haruna Yukawa and Kenji Goto. The last video of beheadings that featured Jihadi John was the execution of 17 Syrian soldiers.