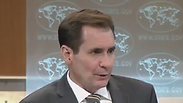 US State Department Spokesman John Kirby
The US does not oppose the European Union's decision to label products as coming from Jewish West Bank settlements, the State Department said Tuesday.

"We do not view labeling the origin of products as being from the settlements a boycott of Israel. We also do not believe that labeling the origin of products is equivalent to a boycott," State Department Spokesman John Kirby said at a press briefing.

Kirby was also asked about the timing of US Ambassador to Israel Dan Shapiro's harsh criticism against Israel on Monday.

State Department Spokesman John Kirby at daily briefing

In the aftermath of two terror attacks in as many days, Shapiro attacked Israel's policy towards the settlements and claimed that "too much vigilantism goes unchecked."

He also expressed concern of Israel's settlement policy, and the fact that "there seem to be two standards of adherence to the rule of law (in the West Bank): one for Israelis and another for Palestinians."

Kirby defended Shapiro's statements, saying the ambassador was simply reiterating long-standing US policies regarding Israel's settlement construction.

"Our long-standing position on settlements is clear. We view Israeli settlements activity as illegitimate and counterproductive to the cause of peace. We remain deeply concerned about Israel's current policy on settlements including construction, planning, and retroactive legalizations," he said.

"The US government has never defended or supported Israeli settlements because the administrations from both parties have long recognized that settlement activity beyond the 1967 lines and efforts to change the facts on the ground undermine prospects for a two-state solution," Kirby added.

He also insisted that "it would be wrong to conclude that (Shapiro) would've chosen this moment necessarily to tweak noses," arguing Shapiro's speech at the security conference was scheduled long in advance, and his remarks were prepared in advance.

Kirby stressed the US was concerned with violence on both sides. "We obviously have strongly condemned terrorist attacks perpetrated by Palestinians, including the attacks over the weekend. We also remain deeply concerned - and we've not been bashful about this and neither was (Shapiro) about Israeli settler violence against Palestinians and their property in the West Bank," he said.

"It's because we value the relationship with Israel so much that we feel it's important to continue to have an honest, candid, forthright discussion about our concerns," Kirby continued. "That he said these things in a speech shouldn't be misconstrued as us not saying them in private to Israeli leaders as well - and have, other many, many months."