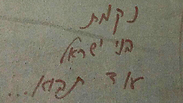 Anti-Christian grafitti on Dormition Abbey
Israeli police said Wednesday they have arrested a second Jewish youth suspected of scrawling anti-Christian graffiti on the Dormition Abbey on Mount Zion in Jerusalem on Sunday.

Police spokesman Micky Rosenfeld said a 16-year-old was arrested after an "intense investigation" Tuesday, two days after the vandalism was discovered at the Dormition Abbey, where Christians believe the Virgin Mary died. An additional suspect, a 15-year-old, was arrested Wednesday, police said.

The graffiti included threats of violence, messages degrading Jesus and a call for Christians to "go to hell."

The teenagers are believed to be from the same group of Jewish extremists that has carried out a spate of similar acts of vandalism in recent years in retaliation for Palestinian attacks or in protest at what they perceive as pro-Palestinian policies by the government.

The vandalism prompted unusually swift arrests by the Israeli authorities. Israel's Minister for Public Security, Gilad Erdan, said he instructed police to give the case top priority. Israeli leaders have strongly condemned attacks and vandalism on Christian property.

The Dormition Abbey, a Benedictine monastery just outside Jerusalem's Old City and a popular site for pilgrims and tourists, has been the target of multiple attacks in recent years.

This month, Israel charged a 20-year-old Israeli and an Israeli minor for an arson attack on the Dormition Abbey in 2014, and for setting fire to the Church of the Multiplication of the Loaves and Fish on the shores of the Sea of Galilee last summer. They were charged with belonging to a terrorist organization alongside two others tried for the firebombing in the West Bank village of Duma, an attack that killed a Palestinian toddler, Ali Dawabsheh and his parents.