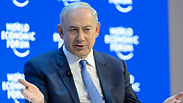 PM Netanyahu at Davos
Photo: EPA
Israeli Prime Minister Benjamin Netanyahu told the World Economic Forum in Davos on Thursday that his country will need more US military aid because of the nuclear deal with Iran.

PM Netanyahu speaking at Davos

Israel is currently negotiating a new 10-year military aid package with Washington that it says will need to grow beyond the $3.1 billion yearly currently provided by the United States.

The figure excludes US spending on projects including Israel's Iron Dome missile defence system.

Netanyahu reiterated his argument that the nuclear deal that has seen sanctions lifted against its regional rival Iran would require Israel to increase spending to maintain its military edge.

The influx of cash, he said, would allow Iran to further back proxy militants, including Israeli enemies Hezbollah.

Netanyahu said it would be important to "resist Iranian aggression in the region, which continues and might even accelerate given the amount of funds that they're going to get with the lifting of sanctions."

"And the strongest way to stop Iranian aggression is to bolster America's allies, first and foremost (of) which is Israel," he said.

The Israeli leader added that "we're talking about a bigger package. But remember that even over a 10-year period, it pales in comparison to the enormous funds that Iran gets."

The United States has unblocked an estimated $100 billion of Iranian assets held abroad and settled a long-running international dispute that will see Iran get $1.7 billion directly from Washington following the implementation of the nuclear deal.

Netanyahu, whose country is believed to be the sole nuclear power in the Middle East, though it has never declared it, strongly opposed the accord and labelled it a "historic mistake."

His outspoken criticism, including in an address to the US Congress, led to troubled ties with the United States.

He has since scaled back his rhetoric and visited Washington in November as part of efforts to move past the rift.

Israel's total defence budget amounts to some $16 billion, excluding the US aid.

Netanyahu's Davos appearance was dominated by issues such as Iran and Syria, but he briefly addressed the conflict with the Palestinians.

A wave of Palestinian gun, knife and car-ramming attacks erupted in October, prompting right-wing members of Netanyahu's cabinet to call for a stronger response to the violence.

Speaking of the occupied West Bank, Netanyahu said: "I think we've been careful to enable the (Palestinian) economy to continue even as we have this wave of stabbings because we don't want the overall population to fall into that trap."