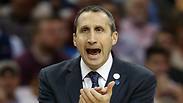 The Cleveland Cavaliers sacked Israeli coach David Blatt on Friday, replacing him with associate coach Tyronn Lue in a shocking move for the NBA's Eastern Conference leaders.

Blatt became the first head coach to be axed with his team atop an NBA conference.

But Cavaliers general manager David Griffin said that in making the move he was "measuring more than wins and losses."

"I'm focusing on a bigger picture and I'm really trying to decide - are we working toward a championship, are we building a championship culture," Griffin said at a press conference at Cleveland's training facility.

"Sometimes you can win games in this league in the regular season and get worse," Griffin said.

"We were regressing over a period of time. I'm in our locker room a lot and I knew that there's just a disconnect there right now.

"There's a lack of spirit and connectedness that I just couldn't accept.

"I know that sounds crazy when we're sitting with a 30-11 record. I understand that."

Griffin quashed speculation that superstar LeBron James, long thought to be cool on Blatt, had any hand in the move.

Griffin said he informed the four-time NBA Most Valuable Player - who rejoined his home state club in 2014 with the goal of bringing a championship to the region - along with the rest of the players after the fact.

"LeBron plays for this team," Griffin said. "LeBron doesn't run this organization, he's about this organization."

The Cavaliers' 30-11 record is third-best in the league, behind reigning champions Golden State and the Warriors' Western Conference rivals San Antonio.

Griffin said a humbling 132-98 loss on Monday to the Warriors team that bested them in the NBA Finals last season wasn't the trigger for Blatt's sacking.

Instead, he felt that while the Cavaliers had coped well with adversity - including injuries sidelining Kyrie Irving and Iman Shumpert for the first two months of the season - they were not dealing as well with "prosperity" now that they are largely healthy and on top of the East.

Blatt becomes the seventh NBA coach in 40 years to reach the championship series only to be fired the next season.

"I am proud of what we have accomplished since I have been the head coach and wish the Cavaliers nothing but the best this season and beyond," Blatt said on Twitter.
Questions nagged Blatt
Questions had nagged Blatt almost since the start of his tenure. He had been selected as coach of the team in June 2014 just weeks before James announced he was leaving the Miami Heat to rejoin the Cavaliers.
Suddenly Blatt, who made his name as a coach in Israel and by leading Russia to a bronze medal at the 2012 London Olympics, was guiding a team with nothing less than championship aspirations, payroll and talent.
Blatt leaves his first NBA coaching post with an 83-40 record and a club-record .675 winning percentage.
Lue, himself a former NBA point guard, has a strong relationship with James and other Cavs players as he goes into his first NBA head coaching job.
"I believe in him to lead this franchise," Griffin said of Lue, who takes over the head coaching role without an "interim" tag.
'A real shocker'
The move had the NBA buzzing.
"It's just a real shocker," said Dallas Mavericks coach Rick Carlisle, who is president of the National Basketball Coaches Association.
"I've gotten to know David in the last year and a half since he came over. He's one of the greatest coaches in European history.
"The ironic thing about all this is that he adjusted and adapted to the NBA game in my opinion, much quicker than any of us ever could have adjusted and adapted to the European game.
"He did a tremendous job just from a strategic standpoint. If you look at his record, this is bizarre."