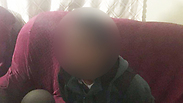 The terrorist who killed Dafna Meir
The 15-year-old Palestinian who murdered Dafna Meir outside her home in Otniel told Shin Bet investigators that he decided to commit the attack after watching Palestinian TV, it was cleared for publication on Sunday.

In the time leading up to the attack, the teenager watched Palestinian television, where Israel was presented as a country that "kills young Palestinians."

On the day of the attack, he sought to murder a Jew. He chose Otniel for his attack due to the settlement's close proximity to his place of residence.

Dafna Meir, a mother of six, was outside her house painting her door when the teenage attacker assaulted her, stabbing her several times. She fought him off in an effort to keep him away from her children. Her daughter's screams scared him away and he fled towards Khirbet el-Karmil, a Palestinian village on the outskirts of Yatta.

Security forces scrambled to comb the area for the attacker, who was caught two days later by the Shin Bet, IDF and elite Duvdevan forces.

"The serious consequences of the terror attack demonstrate once again the severity of the threat caused by the out-of-control incitement in the Palestinian press against the State of Israel and the Jews, which provokes lone terrorists into committing acts of murder and serious terror attacks," the Shin Bet said in a statement.

Meir, 38, is survived by her husband Natan and their six children: Renana, 17, Akiva, 15, Ahava, 10, Noa, 11, Yair, six, and Yaniv, four.