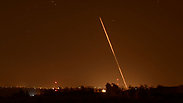 Archive shot of rocket fire from Gaza (Photo: Avi Roccah)
Photo: Avi Roccah
A rocket alert siren sounded in the Sha'ar HaNegev Regional Council on Sunday evening, after which an explosion was heard.
The rocket exploded in an open area, with no injuries caused. A rocket was also fired from Gaza on Saturday, but fell short and exploded inside the Strip.
On Friday night around three weeks ago two rockets exploded in the Sha'ar HaNegev Regional Council after being launched from the Gaza Strip. No one was hurt and no damage was caused. A further two rockets at least were also fired in that barrage, but failed and blew up in the Strip.
IDF artillery batteries deployed in the Gaza envelope near the border. The deployment came following the discovery of explosive devices along the Gaza border fence by the northern Strip about 10 days ago.
In previous years, such cannons have usually been deployed ahead of an escalation. They can respond quickly to fire coming from suspicious open areas.