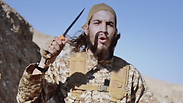 One of the Paris attackers
The Islamic State group on Sunday released a video showing the last message of the terrorists who committed the terror attacks in Paris that killed 128 people last November.

New Islamic State video showing Paris attackers

One of the terrorists, Abu Omer al-Baljiki – known as the "mastermind" and who also went by the name of Abdelhamid Abaaoud – says in the film: "With Allah's help we will create rivers from your blood today! With Allah's help we will be the ones who liberate Palestine."

The film also shows the imminent execution of "infidels," to be conducted out by the same terrorists who would go on to carry out the Paris attacks. The victims are beheaded and shot at point-blank range. One of the militants can be seen grasping the head of someone who's been executed and saying: "This will be your fate (the infidels)."

In the film, al-Baljiki addresses the "infidels," saying: "You have dared to come to Muslim territory and to fight. You declared a war that you lost before it had even begun. You think that you can fight Muslims and then expect to live in peace in your land?

"You are the reason that you are tasting terror. With Allah's help we will reach you. We are actually already in your territory. We will come and slaughter you in your houses."

IS promised yesterday that it would publish a video dealing with the attacks in Paris, and the world waited expectantly as the group had not said what the film would show.

The clip also shows the French president, Francois Hollande, with crosshairs on his head as he declares war on Islamic State. At the end of the video IS also sends a threatening message to the UK, with Prime Minister David Cameron appearing with crosshairs on his head as well.

Eight Islamic State members carried out the coordinated terror attacks in Paris on November 13, which included shootings and suicide bombers. Seven of the attackers were killed after detonating their explosive belts; the eighth, al-Baljiki - also known as Abdelhamid Abaaoud - was killed after police stormed his hideout in Saint-Denis.

Following the attack, the worst in France's history, President Hollande declared a state of emergency and France expanded its operations against terror organizations in Syria.