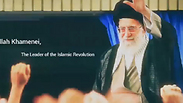 While the international community on Thursday marked International Holocaust Remembrance Day, Iran's Supreme Leader Ali Khamenei chose the occasion to upload a video onto his website in which he publicly denied that the Jewish people's Holocaust occurred.
The video accuses the international community of supporting the "fake Zionist regime" and censoring discussion of the Holocaust. Images of wounded or dead Palestinian children and grief-stricken adults are shown without any context. Intercut between these images, Prime Minister Benjamin Netanyahu is seen delivering a speech at the US Congress and embracing US President Barack Obama.
WARNING - Video contains graphic images:
A voiceover by Khamenei (or an actor imitating him) accompanies dramatic music: "Who assists the fake Israeli regime? Who supports them? Who clears the road for them? Who stands behind them? It is western powers – headed by America – that are doing so. This is while they say in their slogans that they are opposed to terrorism and ISIS. They are lying. They say things which are not true. This is Ignorance (sic)."
Khamenei then turns his attention to the countries of Europe, which he says refuse to discuss the Holocaust and question it, while – according to Khamenei – it's unclear whether the event was real, and "even if it is a reality, it is not clear how it happened."
Khamenei also claims that anyone who raises doubts about the Holocaust is immediately arrested and sued. "This is while they claim to be the supporters of freedom," he says. "This is the Ignorance (sic) that exists in today's world. We should be awake. You dear brothers, dear people of Iran, Muslims in the Great Islamic Ummah and officials in different countries, should know that we can stand up against the Ignorance (sic)."
The statements in the video are very similar to comments made by Khamenei in a 2014 speech, when he claimed that the Holocaust was not certain to have occurred, and that if it had, it was unclear how it had occurred.
Iran holds an annual contest for cartoons using the theme of Holocaust denial. This year, the first prize is $50,000 – four times the amount in previous contests. Israel complained to the UN secretary general, who condemned the contest during his speech on Thursday marking International Holocaust Remembrance Day.