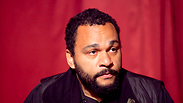 Anti-Semitic comedian's show canceled
French comedian Dieudonne had been due to perform in Thailand, but his show was called off when the Israeli ambassador in Bangkok discovered it was due to take place. The performer was forced to fly to Hong Kong, from where he was deported following the intervention of the Israeli consulate.
French comedian Dieudonné, who has been roundly condemned for his anti-Semitic outbursts, had his show in Thailand canceled last week following the intervention of the Israeli ambassador in Bangkok.

The show was due to take place at Phuket island's well-known Illuzion club on Wednesday. When Ambassador Simon Roded found out about the performance, he approached the club's owners, who didn't respond.

Not giving up, Roded wrote to Phuket's governor, copying in Thailand's prime minister and foreign minister. Roded requested that the governor try to prevent the show from taking place, and included details about Dieudonné and his previous anti-Semitic statements.

At the same time, Roded spoke with the French ambassador in Thailand, asking him to help get the show canceled. The French ambassador responded that he needed to receive instructions from Paris, and within hours got back to Roded saying that he had been told to make an official appeal to Thailand's Foreign Ministry.

The pair's joint appeal worked and on Wednesday evening the Phuket governor told Roded that he had been ordered not to allow the show to take place. An investigation revealed that the Facebook page for the show had been taken down and the event canceled.

Dieudonné was forced to leave Thailand and flew to Hong Kong on Thursday, where another setback was waiting for him. Following the efforts of Israel's Consulate General in Hong Kong, the comedian was detained at the airport and, after a few hours, deported.

Dieudonné, 50, is also an actor and political activist. In addition to his anti-Semitic and anti-Zionist comments, he has also denied the Holocaust and expressed pro-Palestinian views. He is also behind the infamous "quenelle" gesture – thought of as an inverted Nazi salute – and has been charged on eight counts of incitement to anti-Semitism.

Many town mayors in France have declared that he is banned from performing in their districts.

In January last year, Dieudonné was arrested and interrogated after posting a Facebook message following the Charlie Hebdo and Jewish supermarket attacks in Paris, in which he appeared to suggest approval of the terror incidents.

The following March he was convicted of "condoning" terror and sentenced to two months' probation and a fine of 22,500 Euros. Last November, he was charged in Belgium for making anti-Semitic statements, and sentenced to two months in jail.