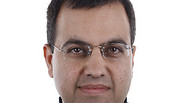 Jacky Hugi.
Photo: Tal Granot
Egyptian officials were outraged when they found out that a book by Army Radio Arab Affairs analyst Jacky Hugi was on display at the Cairo book fair.

The book, Arabian Nights.com, analyzes Egyptian society and politics. After its Arabic-language version came out around two weeks ago, Hugi and the translator gave an interview to Yedioth Ahronoth in which they explained the complex relationship between Israel and Egypt, even in peacetime, as well as the fear in Egypt regarding Israeli books. The translator explained that there is a concern by literary institutions in Egypt of being labeled as someone who supports normalization of relations with Israel, and thus there's a fear of handling Hebrew-language books.

"If I get a phone call from Israel and I'm on public transport, I don't answer. I don't carry Hebrew books on public transportation either," the translator said.

When the interview was published, it was immediately translated by the Egyptian media, sparking a lively debate. The public discussion even reached the country's parliament, with one member, Mohamed Al-Masoud, demanding that the Culture Minister examine the publications.

Al-Masoud said that the visitors at the book fair were enraged, claiming that "the presence of this Israeli book constitutes normalization with the Zionist enemy." He demanded that the Culture Minister say how the book was given entry to the fair, "especially since its author workd as an Arab affairs analyst for the Israeli military." Al-Masoud added that anyone who brought that book into the Cairo International Book Fair should be indicted.

Arabian Nights.com's translator said in response: "If we don't translate Hebrew-language books, how will we know what's written about us? How long will we keep burying our heads in the sand?"

The Cairo International Book Fair takes place annually, and lasts for about ten days. This year, it features about 850 publishers and institutions from 34 countries.