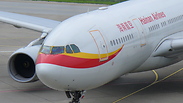 Hainan Airlines. Coming to Israel.
Hainan Airlines is coming to Israel, and is selling tickets for its first four round-trip flights to Beijing for $91. But don't pick up the phone just yet, as after taxes and fuel surcharges, the price rises to $741. This is still cheaper than the prices offered by El Al, the only other airline that flies directly from Israel to Beijing.

Hainan is one of only seven airlines to be awarded a prestigious five star rating by rating company Skytrax, putting it alongside Cathay Pacific, Singapore Airlines, and Asiana airlines.



Israel is a very important destination
The airline thoroughly researched the market in order to determine the route's feasability and the expectations and needs of Israeli travelers before deciding to open the Tel Aviv-Beijing line. Hainan also sent over three hundred visa requests to the Israeli Interior Ministry for pilots, and hundreds more for flight attendants.

"We want to be ready with the best aircrews for our flights to Israel,| said Li Liang, the general manager of the Hainan offices in Israel. "Today Israel is a very important destination for us."

Flights from Israel to Beijing are to take place every Sunday, Tuesday, and Thursday. The planes will take off from Ben Gurion International Airport at 2:00pm IST, and land in Beijing at 5:00am CST the next day. These days and times were chosen in order to enable passengers flying to Beijing the option of catching connecting flights to other destinations within China.

Meanwhile, return flights will take off from Beijing at 2:00am CST, and land in Israel at 8:00am IST.

The planes in use will be Airbus A330-200 models, featuring 36 seats in business class and 186 seats in economy. In business class, the seats have 29 inches of legroom, and unfold into beds. In economy, the seats have over a foot of legroom, and recline up to 105 degrees.

Every passenger is to have a personal entertainment system with over 100 movies on demand, British and American television shows, and different in-flight videogames.
Not afraid of competition
Regarding to competition from El Al, which flies to China on Boeing 767s, Liang says that Hainan doesn't compare its service to those of other companies, or compare itself to other companies that fly to destinations in Europe. "Our judges," he says, "will be the Israeli passengers." According to Liang, Hainan is presenting clients with ultra-modern planes and the highest quality of service. "We have carefully checked the needs of the Israeli customer, and we are not afraid of competition," he says.

Liang said Hainan is "convinced that this new route will be successful, as there has been immense growth in the number of tourists and businesspeople travelling from Israel to China and China to Israel. The relationship between the two countries is developing and progressing all the time."