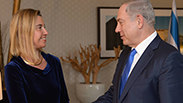 Mogherini and Netanyahu meet in Berlin
Photo: Amos Ben Gershom, GPO
Relations between Israel and the European Union are "close and friendly" again after Prime Minister Benjamin Netanyahu spoke by phone with EU foreign affairs chief Federica Mogherini on Friday.

The two "agreed that relations between the two sides should be conducted in an atmosphere of confidence and mutual respect," the Foreign Ministry said.

Tensions between Israel and the EU arose in November over the bloc's decision to label West Bank exports, leading Jerusalem to suspended contacts with EU officials on the political process with the Palestinians to protest the move, which it said is discriminatory.

Foreign Ministry Spokesman Emmanuel Nachshon said on Friday that the sides had "overcome the crisis" and that Israel would no longer insist on the exclusion of EU bodies from peace talks with the Palestinians over a two-state solution to the Middle East peace process.

Negotiations between Israel and the Palestinians broke down in April 2014 and there have been no signs of them resuming.

While the United States has traditionally played the lead role in peace efforts in the region, the EU is Israel's largest trading partner and is the biggest donor to the Palestinians, and is looking to play a larger role in peace negotiations

Nachshon also said Israel received assurances the move to label settlement products "is not a political step to determine future borders or to boycott Israel."

In November, the EU said that goods produced in settlements could not labelled "Made in Israel" and should be marked as coming from settlements, which the EU considers illegal under international law.

The EU holds the position that the lands Israel has occupied since the 1967 Six-Day War, including the West Bank, East Jerusalem and the Golan Heights, are not part of the internationally recognized borders of Israel.

Nachshon said Mogherini had expressed solidarity with Israel at a time of heightened Israeli-Palestinian violence and had strongly opposed attempts by various groups to boycott Israel.

The Prime Minister's Office said that the EU accepts the position that Palestinian incitement is a problem that needs to be addressed.

The PMO also said that Netanyahu was invited to Brussels, where the EU is headquartered, and that the prime minister was also working to normalize relations with Turkey, while maintaining Israel's interests.

The reconciliation call came after negotiations led by Foreign Ministry director-general Dore Gold.

Reuters and the Associated Press contributed to this report.