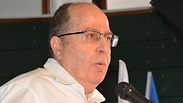 Defense Minister Ya'alon
Photo: Meir Ohayon
Defense Minister Moshe Ya'alon met with Jordan's King Abdullah on Friday on the sidelines of a security conference in Munich, Germany.

The Defense Ministry said the two discussed "the bilateral ties between Jordan and Israel, the latest development in the Middle East, and the possibility of advancing the peace process between Israel and the Palestinians."

The official Jordanian state news agency confirmed the meeting, but provided no further details.

The fact Ya'alon's meeting with King Abdullah was made public is very unusual. While coordination meetings between security and government officials on both sides of the Jordan River have been ongoing, the existence of these meetings was kept secret from the media out of concern the publication of these meetings will serve as ammunition for opposition in the kingdom to the security ties with Israel.

Defense officials declined to comment about the contents of the meeting, but dubbed it as "very important."

The Jordanian king and the defense minister were discussing regional issues in light of the situation in Syria.

Recently, concerns have been raised in public in Israel, expressed also in IDF Chief of Staff Gadi Eisenkot's speech last month at the INSS Conference, that ISIS might launch terror attacks against Israeli or Jordanian targets in the southern Syrian Golan Heights in the wake of the losses the extremist organization has suffered.