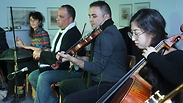 Jews and Arabs Simply Sing
In the midst of an upsurge in terror and violence in Israel, a Jerusalem initiative seeks to lower tensions between Jews and Arabs and uses music to facilitate interaction between them.

"Simply Sing" is a Jerusalem-based cross-cultural project that has Jews and Arabs meet every few weeks for an evening of musical performances and singing. The project has gained much popularity as well as opposition from both Arabs and Jews during its four and a half years of existence.

"We felt it was weird that as young people from Jerusalem, we had no way to get to know our Arab neighbors in the city," said Dror Amedi, one of the project's founders who lives in Rehavia, a Jewish neighborhood in Jerusalem.

"Our idea was that musical events would create an environment people would feel comfortable to attend because it is not political in the depressing sense," Amedi told TPS.

The latest event took place on January 28 at Jerusalem's Museum of Islamic Art. It featured a Flamenco dance show by Micaela Harari and a musical performance by Fuad Abu Ghanam and Liron Meyuhas. The show's producer, Haggai Hirshman, said that approximately 250 Jews and Arabs attended the event.

Six musicians, including three Arabs and three Jewish Israelis, performed a variety of Middle Eastern songs in Hebrew and in Arabic by renowned artists such as Israeli singer Achinoam Nini and Egyptian singer Abdel Halim Hafez.

"I really enjoyed the Middle Eastern music and the dancer," Yasser Ariashi of Mount Scopus told TPS. "This is my first time here and I will definitely return to future events and invite many friends. Such events are important to get to know new people."

"I think I'll add a few songs in Arabic to my playlist after this," agreed Shaked, a resident of the Jewish community of Geulim near Netanya. "We met and talked to an Arab guy and even took a selfie together."

Shaked came to the event with her friend Rotem, who lives in Herzliya. They are both soldiers who currently serve in the West Bank, but this did not deter them from attending a joint Jewish-Arab event.

"We both live in central Israel where you don't meet many Arabs," Rotem told TPS. "This event interested me because it's very different from what I normally do and it's hard for me to understand the conflict and all the hate. So it was fun to come to such a place full of optimism."

The "Simply Sing" project was initiated by the youth organization Hillel Israel in cooperation with the Museum for Islamic Art and is funded by the Pratt Foundation. It has encountered opposition from both Arab and Jewish factions over the years.

"We planned an event in eastern Jerusalem during the war in Gaza a few years back, and the Palestinian residents didn't let us host it there," Amedy told TPS. "They held protests and we were forced to move it to western Jerusalem."

"We have also faced protests from the Jewish side in the past year," he added. "The Lehava organization came and demonstrated against us several times and we even required help from the police to keep them away from our events."

Khaled Alqam, a Palestinian resident of the A-Tur neighborhood in Jerusalem, has been attending the events almost from the start.

"I take great pride in attending the events," he told TPS. "I get to meet people in the same mindset as me, wanting to live together no matter if they are Jewish or Arab. Such projects are the best way to make progress as normal people who simply want to live."

Alqam comes from a Palestinian clan that has produced several terrorists in recent months and revealed that he has often had threats to his life.

"I have been accused of being too Jewish and of selling my principles to please my Jewish masters. This is simply incorrect," he said. "I personally am in favor of any human being, no matter their religion or ethnicity."

"I don't view Jews as baby-torchers," added Alqam to TPS. "I see Jews as having beautiful principles such as 'love your neighbor as yourself' and 'love the foreigner'. I also don't view Muslims as terrorists. The real Islam is an Islam of peace and not hate."

"Every event that is held is the best answer to the violence. I don't think this project is something that can be silenced," concluded Amedi. "The project is more important today than ever before."

Republished with permission from the Tazpit News Agency.