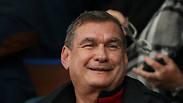 Haim Ramon.
Photo: Reuven Schwartz
It's not the tunnels, Mr. Netanyahu
Prime Minister Netanyahu has had several opportunities to topple the Hamas regime in Gaza. He could easily garner support for that cause from a number of world powers. But alas, the PM seems to be more comfortable with the terrorists of Hamas in power, since their non-diplomatic stance serves him well.
The tunnel threat has returned to the headlines. A year and a half have passed since Netanyahu announced that he would crush Hamas and land a mortal blow from which it cannot recover for years. Lo and behold, rumblings exude from the bowels of the earth and the implicit admissions of the security forces make residents in the vicinity of Gaza lose their sleep. The lights stay on at IDF headquarters, and the General Staff is constantly busy creating diversified solutions for dealing with the evolving and probably more sophisticated threat. Tunnels are at your doorstep, Israel.
But this is not just about the tunnels, Bibi. Its about Hamas. Yes, the Hamas that you promised to collapse immediately when you came into power in 2008. But starting in 2009, through seven years of your reign, it has only grown stronger. It fires missiles into the Gush Dan region. During Operation Protective Edge it took the life of dozens of soldiers and civilians, it held out against the most powerful military in the region for 51 days, and caused (and still causes) defense authorities to spend many billions of shekels defending against rockets and missiles, and against the threat of tunnels. Its probably clear to you, Bibi, that these tunnels, Qassams, Grads and drones emerge from the swamp you failed to dry up. As long as it exists, the mosquitoes of terror will continue to look for ways to sting us, and will collect from us a terrible toll in blood.
So why are you not running to topple the Hamas regime today? That is what you promised to do, and you could have done so in Operation Pillar of Defense, and even more readily so in Operation Protective Edge. The Western world hung their hopes on you. The moderate Arab countries, especially Egypt, urged you to topple the Hamas regime and return the Palestinian Authority to Gaza.
Egypt is working against Hamas continuously, strongly, and determinately, trying to disconnect it from supply routes coming in through the Sinai. But you, Bibi, you always preferred its continued reign, keeping negotiations for a cease-fire and the reconstruction of Gaza going. To this day, you still conduct secret talks with them through intermediaries, in different ways, in order to reach a long-term agreement.
Ironically, Israel, under your leadership, along with Qatar and her collaborators, are the only countries which consistently support the Hamas government. The clearest expression of this comes in the form of hundreds of trucks that deliver supplies to Gaza every week, allowing Hamas to not only survive but grow stronger. The height of absurdity which you created is the ongoing supply of construction materials, most of which are used for the construction of terrorist tunnels. I hate to say, but in practice, Bibi, you are the main contractor responsible for this project designed to harm Israeli citizens.
Why, for example, did it not come to your mind to inform Hamas that if it did not cease building the tunnels, the supply of construction materials to Gaza will stop? That if the resources and building materials aren't used for construction and rehabilitation of homes and hospitals, as well as a source of income for hundreds of thousands of unemployed, then they will not reach Gaza.
You blame the wild Palestinian incitement as the main cause of terrorism in recent months. Hamas is at the head of this incitement campaign. Its leaders preach openly and explicitly for increasing the number of terrorist acts and celebrate after each attack. But you give them immunity, keeping a continuous flow of oxygen to their regime and ensuring its continued rule. So what is the meaning of this dangerous policy? It is quite transparent, Bibi.
The Palestinian Authority is much more dangerous to you than Hamas. That legitimate body, which the world recognizes as the representative of the Palestinian people, and with which the world requires you to hold negotiations about the two-state solution, is the main threat to the your ideology of not surrendering any territory. Your policy of maintaining the status quo is, in fact, the creeping annexation of Judea and Samaria into Israel. In recent weeks, you reiterated that Israel must continue to control all of the West Bank - "for the sake of our security."
You know, the Palestinian Authority is fighting ideologically and physically against Hamas' terror as much as it can. The security cooperation between the PA's forces and our security services saves the lives of dozens of Israelis daily. But Abbas, who is interested in demilitarized Palestinian independence, is more dangerous to you than former Hamas Prime Minister Ismail Haniyeh. So you prefer the quiet cooperation with the terrorist Hamas regime and ensure its rule. After all, Hamas will never demand that you to negotiate with it towards a political solution to the Palestinian problem.