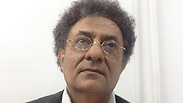 This week, we learned of two small steps taken by Israeli scientists, which are two giant steps for mankind. Two Israeli researchers, Prof. Zelig Eshhar from the Weizmann Institute and Prof. Gidi Gross from Tel-Hai College, are the chief developers behind the most significant cancer-treatment medication to date. This isn't a first time for the two: In 2012, medication they developed helped cure an American girl, Emma Whitehead, of her leukemia. This week, based on a wider set of samples, US-based researchers reported the medication having a 94 percent success rate.

And the tale goes on. Pluristem, A bio-medical company in Haifa, has developed a substance that can prevent damage from radioactive radiation. In an age of growing fears regarding accidents like those in Chernobyl and Fukushima, with reports of radioactive material being stolen from Iraq coming out this week, this kind of medicine can save millions of people. The US and Japan have already joined in on efforts to further develop it.

This is Israel's true contribution to the world. It accompanies other medicines, as well as the world's most efficient desalination and agricultural watering systems. We have so many troubles, real and imagined. We should be allowed to remember, once in a while, that Israel is still the center point of the great directive of Tikun Olam ("repairing the world"). With all this in mind, BDS never looked more ridiculous.

The Knesset suspension bill has many justifications. Sometimes I brig them up them myself. Knesset members who support racism, encourage terrorism, or oppose Israel's right to exist as a Jewish and Democratic state – are not worthy of serving in the parliament. That's exactly what Basic Law: The Knesset and the Knesset party bill say. The High Court of Justice (HCJ), in its old radical activist period, stepped all over what the law explicitly states, and brought us to this point.

The problem is that the answer to the HCJ's actions, the suspension bill (which, if it were to become law, would allow the Knesset to suspend MKs with 90-vote majority. -ed), mostly does harm. It was obvious from the start that instead of discussing Balad's support of terrorism we'd get more complaints of the "end of democracy."

Even the President, just this week, spoke in opposition to the suspension bill, saying it harms democracy, and only found time to condemn Balad. And so, the response to the heinous act becomes more important than the act itself.

The right-wing's bills create a lot of noise, again and again. They give people opportunities to speak against Israel, and in the end they don't even pass in the Knesset. The suspension bill will also have a similar trajectory. And if it were to actually pass, there's no chance of a 90-member majority coming together to suspend even one MK. So what's the point?

Is the public veering rightward? I'm not so sure. A launch even for Dr. Yoaz Hendel's new book, Eretz Lo Zrua ("An unseeded land"), took place this week. I doubt if there was even one Meretz voter in the crowd, and that's too bad. The left has a very easy time dealing with Benzi Gopstein and "price tag" people. But there's another side to the right. A liberal right that has been engaging in a more interesting conversation for the past few years. Hendel's book in another landmark in that conversation, joining publications by the Institute for Zionist Strategies and websites like Mida.org.il and Presspectiva.org.il.

The hundreds of people in attendance didn't just listen to Dani Dayan, who spoke about how the solution was settlements, settlements, and more settlements. I presented a different view. The day Ehud Olmert entered prison, I raised the idea that his convergence plan ("Hitkansut") wasn't so bad. Not only did my clothes remain free of pelted-tomato residue, but parts of the crowd actually expressed its support. I've been running into more and more right-wing voters in the past few months who've completely gotten past the delusion of annexing the Palestinian Territories or the possibility of one big state.

They're right-wing people on a geo-political level. They aren't willing to give up the word "democratic," which always accompanies the word "Jewish." However, they won't vote for a left-wing party. That kind or right wing, perhaps center-right wing, perhaps liberal-right wing, isn't represented in the Knesset. The day the circumstances align just right and Netanyahu can publically admit his willingness to give up over 90 percent of Judea and Samaria, as part of talks with John Kerry, he'll lose a part of the right. But he'll also gain another part's trust. And it's yet unclear which part is larger.

The struggle over the government's gas plan is nearing the finish line. The HCJ is expected to make a ruling in the coming days. It's not clear that this is its job. It's quite clearly not its expertise. The only justification it has to rule against the plan is "unreasonability." However, leading economic pundits and the OECD have expressed a mostly positive opinion of it. Even if those opposed to it have good points to make - and they do – a ruling of "unreasonability" would be highly unreasonable.

The HCJ will, most likely, not strike the plan down. But it may demand that a stability clause be made legally binding, according to a proposal by Deputy Chief Justice Elyakim Rubinstein. The practical meaning of such a step might mean the plan's collapse, since it's doubtful that demand can be met in the current political climate. This kind of move by the court would be a return to radical activism, which the court seemed to be over.

It's true that according to the judicial proceedings common here in Israel, and only here in Israel, the HCJ has the authority to not only demand a legal tie of some sort, but also completely strike the plan down. Sometimes, however, moderation is power. The HCJ's huge power has to be preserved for rare instances in which laws and government decisions that have a black mark upon them are in place. That's not the case here, not in regard to the plan as a whole, and certainly not in regard to legislative binding.

The British Independent newspaper, on Tuesday of this week, featured five articles in the opinions section. Three of them – three! – were about BDS, following a government decision to forbid public bodies from boycotting Israel. Two articles were against, one for. Not bad, considering the fact that the Independent constantly spits venom at Israel. Three out of five is certainly an overreaction, but it's a topic that's been widely discussed in the British media. For a while, this has been a hit on college campuses in the UK and US. Not global Jihad, no Iran. No abuse of women. No Syria, no Iraq. Only Israel is on their mind.

Alex Chalmers, Co-Chair of the Oxford Labour Club, quit his position this week after the club joined the BDS's Apartheid Week. He accused his friends on the left of being anti-Semites. Chalmers, by the way, is not Jewish. So it turns out there are still fair enlightened people out there. There's still hope.

Yedioth Ahronoth will host a conference about the BDS on March 28, 2016. The claims that "it's unimportant" and "there's no need to make a big fuss about it" are still heard from time to time. The penny has not dropped. Many still don't see clearly that the BDS is becoming a cancer on the body of the free world. A bigoted, anti-Semitic cancer. Unbelievably, this cancer has supporters in Israel as well. The narrow-minded did it to the Jews in the past. These days, the enlightened are doing it to the Jewish state. One conference won't solve the problem, but it could be another wake up call.