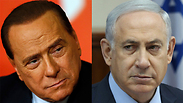 Ex-president of Italy Silvio Berlusconi and Prime Minister Benjamin Netanyahu
Wikileaks announced Tuesday night that the National Security Agency (NSA) eavesdropped on conversations which reveal that Prime Minister Benjamin Netanyahu turned to Italian President Silvio Berlusconi to help him deal with US President Barack Obama.
"Netanyahu pleaded with Berlusconi to help him deal with Obama," the WikiLeaks website stated . According to the leak, this conversation took place between the leaders in 2010 following Israel's decision to build 1,600 homes in East Jerusalem.
"Berlusconi promised to put Italy at Israel's disposal in helping mend the latter's ties with Washington," the NSA document read.
The Americans were able to pick up the call by listening to three Italian officials, including Berlusconi's personal adviser and national security adviser.
"Speaking with Italian Prime Minister Silvio Berlusconi, Israeli Prime Minister Binyamin Netanyahu insisted that the trigger for the dispute - Israel's decision to build 1,600 homes in contested East Jerusalem - was totally in keeping with national policy dating back to the administration of Golda Meir, and blamed this mishandling on a government official with poor political sensitivity," the document continued.
Netanyahu told Berlusconi that he wants to prevent the Palestinians from "using this issue as a pretext to block a resumption of talks or to advance unrealistic claims that could risk sinking the peace negotiations altogether."
The document also relates that Israeli officials said that Israeli construction beyond the Green Line is just an excuse for the bad relations between Israel and Washington and that the relationship is bad even without construction there.
The American administration's tapping Netanyahu is nothing new. Last December the Wall Street Journal reported that the White House ordered that Netanyahu be spied on despite US President Barack Obama's directive two years ago to stop spying on friendly countries following the discovery of wiretaps of German Chancellor Angela Merkel.
US officials told the Wall Street Journal that the Obama administration wanted to keep track of friendly countries, and Netanyahu was placed at the top of the list due to the latter's aggressive campaign against the nuclear deal between Iran and the great powers, which the United States led and desired to have signed.