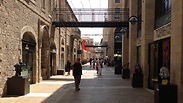 People leave, but in lesser numbers
Photo: Liran Tamari
Secular people abandoning Jerusalem
CBS report shows massive emigration from the capital mostly over housing, but also religion and employment; 'After leaving Jerusalem, I understood what it means to live in a city that is friendly to secular people, and Jerusalem is not that kind of city,' says Jerusalem-born Tamar Gordon, who moved to Tel Aviv.
Data released by the Central Bureau of Statistics last week may point to the fact emigration of residents from Jerusalem has slowed down compared to previous years, but the number of those leaving the capital still far exceeds the number of those who move there. The holy city also leads the list of cities in Israel in emigration.

Many of those leaving the city are concerned with issues of religion and employment, but the housing crisis also plays an important role in their decision to leave.

By the end of 2014 - long before the current wave of terrorism - the migration total in Jerusalem was at minus 6,740 residents, meaning that while 10,351 new residents moved to the capital that year, far more residents - 17,091 of them - left it. Many of those who left (6,421 of them) were young (aged 15-29).

Tamar Gordon, 31, who grew up in Jerusalem, was among those who chose to move to Tel Aviv. "I left because I wanted to study physiotherapy, but there wasn't anywhere to study that in Jerusalem. If there was, I probably would have not left," she said. "My family and my partner's family live in Jerusalem, which could be a reason for us to come back, but I can't say that for sure. Although I have lived as a secular person in Jerusalem for most of my life, after leaving the city I understood what it means to live in a city that is friendly to secular people, and Jerusalem is not that kind of city, it seems to be moving away from that. I used to think I would never leave Jerusalem, but it's hard to come back after I left."

Amit Cohen, 30, also grew up in the Ramot neighborhood in the capital, and three years ago, he too chose to move to Tel Aviv . "After graduating, I couldn't find many reasons to stay there, both in terms of employment and socially," said Amit, who works in hi-tech and is the director of the Shachen Tov (Good Neighbor) organization. "My friends left a lot earlier than me and the city is becoming increasingly old, even when you put aside issues of religion."

"Student life is relatively good in Jerusalem. We have fun on weekends, but eventually you leave university. I live in Tel Aviv and I feel that the city is much more alive. Even older people have a lot more activities to do. Sometimes I go to my parents on Saturday and I feel uncomfortable traveling by car."

But it's not just about social activities, there are better employment options in Tel Aviv. "In terms of hi-tech, Tel Aviv has higher salaries, I guess it's a difference of 10-15 percent. There is no doubt that Tel Aviv has a lot more opportunities."

Cohen added that although there is emigration from other cities to the Tel Aviv and the surrounding area for work reasons as well, there are many more reasons to leave Jerusalem compared to other places. "I grew up in a neighborhood where I don't think there are any more secular elementary schools," he said. "My cousins live in (the Jerusalem neighborhood of) Beit Hakerem and while there is a secular population there, it is diminishing. The feeling is that this is the last bastion and they will disappear soon. Not only did is the younger generation leaving, but their parents are leaving as well. We are nine friends, we've all left Jerusalem, as did most of our parents."
'Especially now, it's important to move to Jerusalem'
In contrast, Matan Asher, 26, lived in Netanya in the past and last year moved specifically to Jerusalem. "I really like the atmosphere and the people, it is difficult to explain it to those who don't live in Jerusalem," he said. "I feel that people listen to you more in Jerusalem, there is more diversity, and of course it's fun to walk around the market."

Asher said that he was not afraid to move to the capital despite the latest wave of terrorist attacks. "It has never crossed my mind," he stated. "I am more vigilant and I look around more, but this is true not only in Jerusalem but throughout the country. I feel it's important to move there particularly now."

Yair Assaf-Shapira, a researcher at the Jerusalem Institute for Israel Studies, who is investigating the issue of the emigration from Jerusalem, said that the main reason for the exodus is the cost of housing. This is due to a supply of apartments that is not growing at the rate of the natural growth in population, which leads to an increase in demand for apartment, that in turn drives younger people from the city.

"Basically, the volume of emigration is more or less the same over many years," said Shapira. "The deviations are insignificant when one looks at the data over a decade. It has to do, of course, with the rate of population growth in Jerusalem. The population is large, there are many people in the city and there isn't a place for everyone to live in it. This is a characteristic of large cities in the country and even the world. For example, people move to Tel Aviv when they're young, study at university and, if they choose to have a family, the moment children are born it becomes difficult to find housing, so they leave."

On which specific populations are leaving Jerusalem, Shapira said: "From what we see over the years, the percentage of haredim (ultra-Orthodox Jews) who leave is similar to the natural increase in their population. In other words, Haredim and non-Haredim are both leaving Jerusalem. It's has a lot to do with housing prices and the supply of housing. If you have X new apartments per year, but there is a larger population that wants a new apartment, the demand exceeds the supply, so we get a negative migration.

"The question of where do people go is very significant for Jerusalem - if they live in areas closer to the city and are in close proximity to it - such as in places like Ma'ale Adumim, Mevasseret Zion, Beit Shemesh, Tzur Hadassah and so on - then their lives stay in Jerusalem. They stay so they could work in Jerusalem, study there, have fun there, so the city continues to enjoy the activity they generate. If they live in Tel Aviv or its surrounding area, then Jerusalem is no longer benefiting from these people."

To remedy the exodus he suggested, "We can differentiate between issues that we can do something about and those we can't. The issues that are harder to resolve are employment and housing. It is very difficult at the city level to produce large quantities of new apartments or to create jobs. The city tries and succeeds, but the competition is great. The Jerusalem municipality and the Jerusalem Development Authority could do something about the quality of life in the broadest sense - for example, building pleasant residential areas and developing the city center. It really holds true especially for the younger population."

Ofer Berkovich, the deputy mayor and a member of Jerusalem's Awakening Movement, said that "We need to find out those who is leaving the city and why. When examining these things in-depth, one can see an improvement in the city's situation. Quite a few young couples, families and Haredim leave because housing is expensive and it's hard for them to start a family, but this is true for other major cities as well. Of course we continue working hard on bolstering businesses, improving the city's appeal, and lowering housing prices, but I don't consider migration data as measures of success. Success if about how many new jobs we manage to create, the education awards we receive."

Minister of Jerusalem Affairs Ze'ev Elkin (Likud) said that "The new data unfortunately confirm once more what I have been saying over the last few years - emigration is a strategic problem for Jerusalem which threatens the Jewish majority in the city. People from all groups in the Jewish sector leave the city, and the reason for that is the lack of city housing solutions. The only way to reverse this trend as fast as possible, is to promote new construction projects throughout the city."

The Jerusalem municipality said in response: "According to the data, there is actually a reduction in Jerusalem's migration total compared to previous years. The demographic trends in the city have changed completely, and more and more people choose to raise their families here. While in the years 2001-2008, the amount of students in the Zionist sector (state schools and religious state schools) shrank by about 12 percent, the city started growing against in 2009 and has grown by more than six percent in the Zionist sector, with fifty new preschools opening annually.

"Fortunately, the city's population has grown by 15,000 people every year thanks to more than 23,000 births annually, in addition to more than 10,000 Israelis who move to the city every year and more than 2,000 immigrants who arrive from abroad each year. Despite the challenges experienced, Israel's capital continues to be an attractive place to live for all residents, a capital of culture with a quality education system and unprecedented economic development trends."