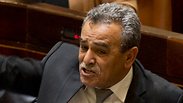 Joint List MK Jamal Zahalka
Photo: AP
Joint List MK Jamal Zahalka has been refused entry to the President's Residence because of his meeting with families of terrorists.

President Reuven Rivlin held a meeting on Wednesday with Arab leaders, Finance Minister Moshe Kahlon, Social Equality Minister Gila Gamliel, and the Prime Minister's Office director-general, Eli Groner.

MK Zahalka requested to join the meeting two hours before it was scheduled to start, but the president decided to reject his request and bar his attendance.

The president's staff notified Zahalka's aides that he was not allowed to join the meeting, but the MK arrived anyway and was stopped at the entrance by security. Joint List MKs Ayman Odeh, Ahmed Tibi, Masud Ganaim cancelled their participation in the meeting in protest.

"While unfortunately, there are those, individual Knesset Members who seek to cynically and maliciously sabotage our ability to establish trust between us (Jews and Arabs), nevertheless we are here today because we believe in our path," Rivlin said at the meeting. "I look forward to hearing from you, Arab leaders, a clear expression of the Arab public's contempt for such obstructive attempts. Our perseverance is being tested in difficult times. I pray that we are strong enough to persist in paving our road toward a different future - for us, for our children, for our grandchildren."

PMO director-general Groner and Social Equality Minister Gamliel committed that the five-year plan to invest in the Arab sector will be approved without any conditions regarding illegal construction in Arab villages or national service for Arabs.

Sixty-seven Arab leaders attended the meeting - all who were invited except for one who was unable to attend due to a familial engagement. The leaders took advantage of the meeting in order to talk with the government officials about the problems faced in their sector.

The president also spoke about the death of Captain (res.) Eliav Gelman, saying "We have in the last moments received the terrible news of the death of Captain Eliav Gelman, who was killed during efforts to subdue a terrorist who struck today at the Gush Etzion junction. There can be no forgiving terror, there can be no tolerating terror, and all those sitting here today must condemn terror outright. The fire of terrorism, which has taken from us so many victims, is the same fire which will burn the bridges that we are trying to build here today. I send my deepest condolences to the bereaved family."