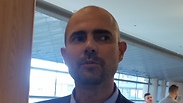 Amir Ohana
Photo: Eli Mendelbaum
On Tuesday, the Knesset marked the first LGBT rights day, but on Wednesday all promises of equality were forgotten as the coalition brought down a series of opposition legislation proposals benefitting the gay community.

Meanwhile, MK Amir Ohana, the Likud party's first openly-gay lawmaker, who was elected as a representative of the LGBT community, surprised and angered many when he decided to leave the plenum before the vote on these proposals.

On Tuesday, Prime Minister Benjamin Netanyahu declared that "Every person was created in God's image," while Ohana promised that "the longed-for goal of full equality will be achieved."

On Wednesday, however, the coalition managed to vote down six bills benefitting the gay community that were proposed by opposition MKs. Among them were Zionist Union MK Tzipi Livni's civil union legislation; Zionist Union MK Revital Swid's proposal granting same-sex bereaved families the same rights as all other bereaved families; Yesh Atid MK Yael German's bill barring conversion therapy for minors; and Meretz MK Michal Rozin's proposal to train medical professionals on the issues of sexual orientation.

Two Likud MKs who are associated with the LGBT community, Ohana and Sharren Haskel, helped bring down the legislation. Haskel voted against the bills, while Ohana left the plenum.

"MK Ohana showed a lot of courage when leading the issue of gay rights in the Likud party, and that is why it's so sad to see how now, when he received a spot in the Knesset and a chance to help the community to right the inequality, he caved in and ran away," Zionist Union MK Stav Shaffir charged.

"The damage done is even more severe because this is a young MK who is supposed to represent a different kind of politics at the Knesset," she added. "We must act in the benefit of the public first and foremost, and not surrender to party and political interests, which give politicians a bad name and lead the public to stop believing that its public officials are fighting for it."

Coalition officials said on Wednesday that Ohana was embarrassed by the situation, "but he didn't have a choice, because he had to vote with the coalition and oppose legislation by the opposition."

Ohana said in response: "Coalition members have to vote with the coalition, but despite what I said early on, that I would vote with the coalition even if my opinion is not accepted, I felt I could not vote against the community, against myself. Even if I had voted for those bills, it would not have changed the outcome."

Ohana went on to say that "social processes take time, and not everything is about legislation. An elected representative can express his truth in other ways as well. But I'm not worried. We'll face difficulties and obstacle, but equality will be achieved."

In addition, during the discussion on MK Rozin's proposal, Health Minister Yaakov Litzman (United Torah Judaism) slammed the members of the gay community, calling them "sinners" and comparing their actions to the worship the golden calf.

These comments caused an outraged in the plenum, with MK Rozin responding, "I did not ask you to be the minister of gays and lesbians. I asked you to be the health minister for all Israeli citizens. Your comments were neither Jewish nor humane."

Litzman refused to respond to Rozin.