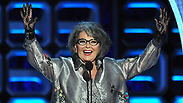 Roseanne Barr on Comedy Central.
Rosanne Barr to attend anti-BDS conference in Jerusalem
The Jewish-American comedienne, known for her big mouth, is to arrive in Israel. Instead of jokes, she'll be dealing with a much more serious issue: Barr is expected to join the Yedioth Ahronoth conference against BDS after a two-week-long tour around the country.
I am proud to stand with Israel during the week of Purim, Roseanne Barr said Thursday night, this is he holiday where Esther mobilized the Jewish community, and because of her strong and unifying stance, she succeeded in overturning the brutal decree to destroy us.

The Jewish-American actress is coming to Israel with her mother at the invitation of the pro-Israel advocacy organization StandWithUS, which is involved with PR efforts on college campuses across the United States and in the fight against the BDS movement.

The star of her own hit sitcom in the 1980s and 1990s, Barr has turned into a proactive and vigorous supporter of Israel in more recent years. Barr will be taking a two-week-long trip, whch will include a tour of many different parts of Israel, meetings with various communities in the country, and hopefully - the delivery of tools that will assist PR efforts and combat the BDS movement in Hollywood.

In her blog, she accused boycotters of "knowing nothing about Judaism."

Ind addition, singers, businesspeople, and representatives from Europe and the US are also expected to attend the Yediot Ahronot and Ynet conference against the BDS movement. President of Israel Reuven Rivlin will open the conference, alongside Ron Lauder (head of the the World Jewish Congress), Ministers Erdan, Bennett, and Kahlon, and MKs Lapid and Herzog. Also in attendance will be Ofra Strauss (Chairwoman of Strauss Group), Daniel Birnbaum (CEO of Sodastream), and many more.