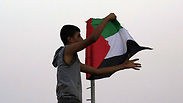 Palestinians in Gaza
Photo: AFP
The Coordinator of Government Activities in the Territories (COGAT), Maj.-Gen. Yoav Mordechai, stressed on Friday that there are no negotiations with Turkey on the construction of a sea port in the Gaza Strip.

Speaking to Saudi media, Mordechai said any possible agreement on the construction of a sea port in Gaza will be reached with the Palestinian Authority and not with Hamas.

Israel and Turkey have been holding talks on normalizing ties after a 2010 IDF raid on the Mavi Marmara, part of a flotilla trying to break the blockade on Gaza, left 10 Turkish citizens dead.

The COGAT's statements came in response to a series of comments and declarations made by Hamas officials over the past few weeks, claiming that the construction of a sea port in Gaza was part of the reconciliation talks between Israel and Turkey and that the sides were not far from reaching an agreement on the issue.

The latest Hamas official to make these claims was Khalil al-Hayya, who claimed on Thursday that the only obstacle left in the way of Jerusalem and Ankara reaching an agreement on the normalization of ties was the Turkish condition to lift the Israeli blockade over Gaza. Al-Hayya tied that to the construction of a sea port in the Strip.

The fact Israel has set a condition that a future Gaza sea port will be controlled and managed by the Palestinian Authority creates a problem for Hamas, as it will force it to reach its own reconciliation agreement with Fatah, which rules the PA.

So far, Hamas has rejected out of hand the condition to give the PA control over Gaza's border crossings, including a sea port, as it would detract from the organization's power in the Strip.

Reconciliation talks between Hamas and Fatah have been stagnant even after the latest round of talks held in Qatar last month.

A Palestinian official told Ynet recently that the top officials in the Palestinian Authority in Ramallah are not putting their hopes in the Qatari effort to restart the reconciliation talks. A Fatah delegation arrived to the talks merely out of respect to the Qataris, and not because they see any importance in the process.