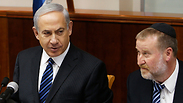 Prime Minister Benjamin Netanyahu and Attorney General Avichai Mandelblit
Photo: Reuters
Prime Minister Benjamin Netanyahu addressed a letter to Attorney General Avichai Mandelblit requesting his legal opinion regarding the possibility of expelling terrorists' families who assist in terror to the Gaza Strip.

The letter was sent in the wake of Mandelblit ruling that the measure is contrary to Israeli and international law. "These terrorists sometimes come from families who encourage and support their action," Netanyahu wrote.

"I believe that the use of this tool will result in a significant reduction in terror attacks against Israel, its citizens and residents," he continued.

Cabinet ministers heard Mandelblit say that there is the fear that the deportation of terrorists or their deportation to Gaza and Syria will lead to claims being made against Israel at the International Court in The Hague for committing war crimes. Therefore, the legal establishment prevents this policy at this stage.

The subject came up already in 2014, but the former Attorney General, Yehuda Weinstein, explained why the legal, military and civilian leadership objected to the move. It is estimated that Mandelblit, who was the the chief military advocate general, supports this position because of his expertise in international law. However it should be noted that more than a decade ago, the Supreme Court upheld the deportation of terrorist leaders to Gaza.

In the past, it was decided to favor demolishing the homes of families of terrorists as a deterrent, in accordance with the opinion of the Shin Bet which claimed that the demolition of houses may deter potential terrorists from carrying out murderous attacks.

Intelligence Affairs Minister Yisrael Katz welcomed Netanyahu's request: "On Monday I will present to the Knesset, via MKs from the coalition and the opposition, a proposal to change Israeli law to allow the deportation or expulsion of families of terrorists to Syria or Gaza. If given government support, the procedure will be fast and short. As I've said before: we will change Israeli law and deal with international pressure."