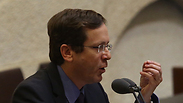 MK Herzog
Photo: Gil Yohanan
Opposition slams Netanyahu in wake of terror attacks
Opposition leaders attacked PM Netanyahu's leadership during the terror wave, following Tuesday's three terrorist attacks and Wednesday's attack in Jerusalem. MK Herzog said that separating from the Palestinians was the only way to stop the attacks.
Prime Minister Netanyahu continued to absorb heavy criticism from his political foes Wednesday, following three terror attacks on Tuesday in which an American tourist was murdered, and Wednesday'a terror attack in Jerusalem.

"This is an impotent government. We have been in the midst of a third intifada for a while," said Knesset Opposition Leader Isaac Herzog Wednesday morning.

Herzog was speaking while standing in the area of Jaffa where American tourist Taylor Allen Force was killed Tuesday in a stabbing attack. "Only when we separate from the Palestinians will there come a stop to Jews being murdered," he said, "I warned in August that there would be a third intifada, which would be based on young, brainwashed terrorists. To stop them we need to put up a barrier. When there's a barrier, the mind cools down."

Yisrael Beytenu party Chairperson MK Avigdor Lieberman gave an interview to Ynet, saying, "First of all, we need to understand that we have a Prime Minister who's very strong with words, strong on screen, and a zero on action. Why does he need to wait six months to start, Tuesday night, to more severely punish illegal workers, as well as their employers and transporters. Why did he have to wait six months to fix holes in the fence."

Lieberman added, "Abu Mazen (Palestinian President Mahmoud Abbas) is playing a double game – he condemns (the attacks) to Vice President Joe Biden, but pays a monthly stipend to the terrorist from Qalqilya who killed and wounded people in Jaffa yesterday, starting today his family gets a stipend from Abu Mazen, out of money we sent them. We have a diplomatic and security escalation. It will end in September at the UN General Assembly. After the meeting with Biden, the French initiative will come, then the Quartet. Shortly ahead of September, Abu Mazen will escalate violence in the field. Open the official Palestinian radio and television stations, which we fund, there's wild incitement there."

Minister of Tourism Yariv Levin (Likud) responded to the criticism, saying, "I think Lieberman's statements are irresponsible, cheap politics, in a time that calls for unity and for everyone's backing up of security forces."